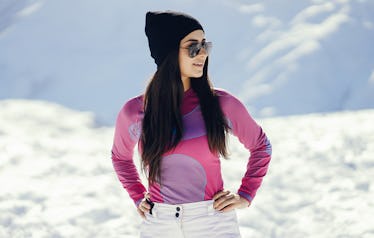 The One Piece Of Clothing You Should Always Wear To Stay Warm In Chilly Weather
fotolia/prostooleh
If you know what to look for, the best base layers for cold weather will keep you warm, dry, and comfortable in even the most frigid temperatures.
Before you buy, the first thing to consider is which types of activities you're planning to do out in the cold. Here's the thing: Pretty much any extra layering will provide you with more warmth. While fleece-lined layers are the warmest, they're a better option if you aren't planning to run, ski, or hike. If you're sweating in the cold, you'll want to invest in a thermal base layer that's both warming and sweat-wicking to help regulate your body temperature.
Another thing to keep in mind is your budget. If you're hitting the slopes every weekend, you'll want to invest in quality thermal base layers with adequate circulation and quick drying times. But if you're more of a once-a-season skier, or you're simply looking for the most affordable layer still worth buying, there are budget-friendly thermals that can keep you warm as well.
With so many options for cold-weather gear out there, it can be tough to find exactly what you need. Here's a round-up of some of the best base layers for cold weather to help you narrow down the decision.