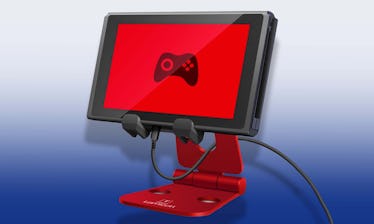 Your Nintedo Switch Setup Isn't Complete Without One Of These Hands-Free Stands
Amazon/Elite Daily
If you like playing your Nintendo Switch in tabletop mode, then you need one of the best stands for the Nintendo Switch. These handy stands can extend your tabletop gaming sessions and give you the option to charge your device during use. Without one, you're dependent on the Switch's built-in kickstand, which blocks the USB-C charging port located at the bottom of the device and makes it difficult to play while charging.
Why Nintendo Switch Stands Are Great
They make travel gaming easier, transforming any flat surface into the perfect platform.
They minimize the risk of cord damage, as you won't need to prop or force the cables.
When you're shopping around for a quality stand, keep your eyes peeled for one that boasts features that'll enhance both its tabletop mode and portability. You'll ideally want one with adjustable hinges for the best possible viewing angle. Another plus to have is a foldable design. It'll give you easy storage — especially if you plan on traveling.
To make choosing the perfect stand easier, check out my quick rundown of the best stands for Nintendo Switch currently available on Amazon. Then, peruse some of the best Nintendo switch cases while you're at it.