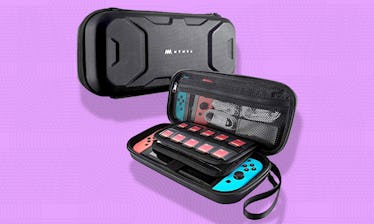 These Compact Nintendo Switch Cases Will Totally Transform Your Gaming Experience
Amazon/Elite Daily
If you're looking for more protection for your Switch, the best case for the Nintendo Switch will keep your gaming console completely safe.
With its uniquely portable design, you need a case that does more than just shield your Switch from the occasional drop or two. It should also safeguard it against water damage and scratches. Having the best case makes transporting all your games and accessories much easier, too.
There are two types of Nintendo Switch cases: smaller hardshell cases and larger travel cases. Both help prevent damage while on the go. Smaller hardshell cases usually only protect the base of the console, reducing shock from drops. These cases also tend to have minimal storage space (only enough for a few games). Larger travel cases, on the other hand, provide extra space to transport your console, dock, Joy-Cons, and lots of games. This type of case is ideal for traveling and transporting your entire setup. Nintendo Switch cases often come in a variety of colors, materials, and designs, too. So when you're shopping around for a case, you can choose the option that best suits your gaming needs and personal style.
To help, here's my list of the best cases for Nintendo Switch available on Amazon right now.