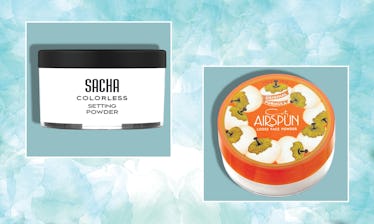 The Best Laura Mercier Translucent Powder Dupes, According To The Internet
Amazon/Bustle
If you have oily skin, or wish for stay-all-day makeup that won't slide off your face, then a translucent powder should be a staple in your makeup kit. Laura Mercier's Translucent Powder is probably the most widely beloved luxury setting powder out there — but at $39, it can be tough for even the most beauty-addicted shoppers to justify the purchase. This is where the hunt for the best Laura Mercier Translucent Powder dupes comes in.
Translucent powders can be used for so much more than just setting your makeup and mattifying your skin. They can also be used to lock in your lipstick, so it stays on all day, or as a primer for oily eyelids. Also, translucent powders are the key to "baking" your makeup, if you're interested in an airbrush-like finish.
To narrow down the three best dupes for Laura Mercier's cult-favorite powder, I took to Reddit, YouTube, beauty blogs, and the Amazon reviews section. The most highly-recommended picks are all much more affordable — one costs as little as $6 — and basically work the same. Plus, since they're all available on Amazon Prime, buying one of these guys will not only save you money, but a trip to Sephora as well.
Ahead, you'll find the best Laura Mercier Translucent Powder dupes on the market