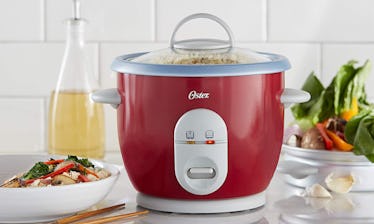 These Affordable Rice Cookers Are The Key To Making Your Favorite Rice Dishes On The Cheap
Amazon
Cooking up rice does not need to cost you a lot of money. For less than $50, you can find a quality rice cooker that won't break, or break the bank. Enter: The best inexpensive rice cookers.
As with any search for affordable kitchen gadgets, you'll want to look out for duds. Pay attention to the reviews (I've got you covered here), because there are a lot of rice cookers out there, and they aren't all worth your money. Reviewers will be able to tell you which ones won't quit on you one month in.
Consider which features really matter to you: Are you going to want a rice cooker with a digital control panel you can use to time the meal? Or are you looking for a more no-frills model? Do you need your rice cooker to make a large portion of rice, or are you better off with a smaller one that will serve a few people?
Once you've made those decisions, you're ready to start shopping. Keep in mind, that the more you invest up front, the longer the cooker will last. So, if you're looking to have one for the long haul, an extra $10 now might save you having to replace it for a new one down the line.
But, this rice isn't going to cook itself. Here are the best inexpensive rice cookers out there today.