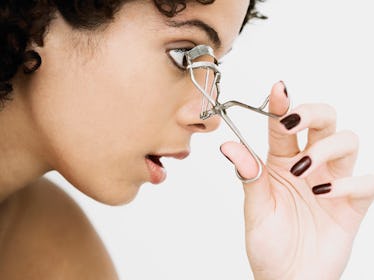 According To A Makeup Artist, Short Lashes Can Be Curled — & Here's How
Glowimages/Glowimages/Getty Images
If you love the look of fanned-out lashes, curling them will go much further than a swipe of mascara alone. This is especially true if your lashes aren't super long to begin with. "The challenge I encounter the most when curling short lashes is being overly cautious not to pinch the skin," says Carolina Dali, a New York-based professional makeup artist whose clients have included Gisele Bündchen and Julianne Hough. So when shopping for the best eyelash curlers for short lashes, one option is to choose a partial curler so that you can reach every last lash, including the inner and outer corners of the eye, without any pinching or pain. Because partial curlers are so small, Dali adds that "you can really get in there and curl one section at a time."
If you still prefer a traditional, full-size curler, look for one with a spring mechanism that allows you to control how firmly you clamp down. Dali even recommends combining the two for the most oomph: "I always like to use two lash curlers when curling short lashes. Once I'm done curling all of the sections, I do one last curl with the full size lash curler in order to marry all the lashes together and give them a uniform curl," she says.
A lesser-known tool that also deserves to be called out among the best lash curlers for short lashes is a heated curler without a clamp, which is an ideal option if you have a phobia of pinching, or if you like the idea of being able to zero in on the base of your lashes so that you can swoop them up in more of a combing motion.
Below, you'll find three of the best eyelash curlers that are ideal for short lashes. And no matter which tool (or tools) you choose, you'll get the most volume and length when you pair it with one of these mascaras for short lashes.
We only recommend products we love and that we think you will, too. We may receive a portion of sales from products purchased from this article, which was written by our Commerce team.