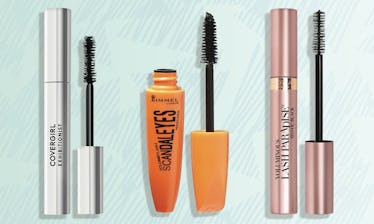 3 Affordable Dupes For Too Faced's Better Than Sex Mascara
Elite Daily/Amazon
While there are dozens upon dozens of incredible beauty products on the market, only in rare cases do they achieve cult status. Usually when this happens, it's a chemical exfoliant or face mask that fans claim gives them the best skin of their life. But in the case of Too Faced's Better Than Sex Mascara, it's a simple tube of pigment that curls, lengthens, and adds volume to your lashes all at once. But since this cult-favorite mascara isn't exactly cheap, the online beauty community has become obsessed with finding the best Better Than Sex mascara dupes. Ahead, a roundup of the three top alternatives you can buy for a fraction of the price.
To narrow down the three best dupes for Too Faced's Better Than Sex mascara, I took to Reddit, YouTube, Instagram, and my own beauty editor friends to find out the most commonly recommended alternatives. Again and again, the same three tubes came up. And though a single tube of Better Than Sex will run you about $25, all of the dupes on this list cost less than $10, but work similarly (if not just as well).
So save yourself some money but still get the long, voluminous lashes of your dreams with the three best dupes for Better Than Sex. And, if you're interested in more dupes for cult-favorite beauty products, check out this roundup of the 41 best makeup and skin care dupes you can get on Amazon.