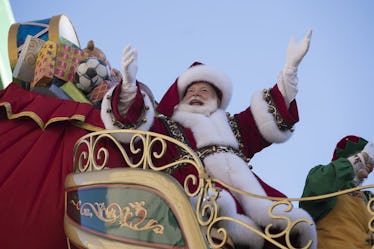 The 2018 Thanksgiving TV Schedule Will Keep You Happy & Cozy All Day Long
NBC
Thanksgiving is just around the corner. If you haven't missed your flight yet, you may just be stuck in traffic wondering if you will be missing your flight right now. For those who head on to wherever "home" is, it's a time to sit back on the couch, let mom and dad putter around doing their thing, and settle in to watch all the comforts of television. Most families have Netflix and Hulu accounts, of course, but one thing most cord-cutters get to experience when they return home are the joys of broadcast TV. The 2018 Thanksgiving TV schedule won't disappoint, especially if you're looking for the nostalgia factor.
NBC leads the pack with their coverage of the Macy's Parade, puppies on display, and football, but there are alternatives up and down the dial. Both CBS and The CW also have the parade. The former follows it up with football and then a line up of reruns of their most popular shows. The latter will fill primetime with footage from September's iHeartRadio concert.
ABC isn't airing the parade directly, choosing to mix in footage with their usual morning show lineup. They don't have football, either, but they do have a full primetime lineup of entertainment and celebrity specials. FOX will sit out the morning, preferring to start with football in the afternoon. And finally, there's PBS, doing their own thing as always.
Check out all the broadcast lineups for this Thursday: