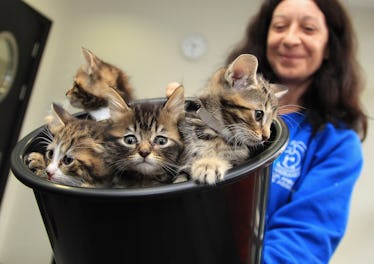 The 2018 Kitten Bowl Lineup Is Pure Fuzzy Delight & We're Seriously So Excited
Chris Jackson/Chris Jackson Collection/Getty Images
There's so much to be excited about on Feb. 4 this year. But besides the Super Bowl to the Puppy Bowl, there's one more festive event that we can look forward to and that's the 2018 Kitten Bowl. Want to meet the furry felines gracing the field? Introducing the 2018 Kitten Bowl lineup.
Presented by Hallmark Channel, the Bowl this year will feature 24 kitties divided into four teams, The North Shore Bengals, Little Longtails, Pouncy Panthers, and Last Hope Lions. No matter who ends up with the trophy, there are certainly no losers in this lot. Especially in the cuteness category. A full list of player profiles are featured on Hallmark's website, which details each kitten's "position," "demeanor," "nickname," "litter mate," "quote," and whether the kitten has been adopted yet. Thus far, the 2018 Kitten Bowl has a 100 percent adoption rate and has found homes for 13,000 animals.
One of the players strutting her stuff on the field has a special story. Sunny, whose past home consisted of the streets of Florida, fought the flooding waters of Hurricane Irma. She ended up getting her back leg stuck in a fence while trying to escape, and unfortunately lost it. She was later found by North Shore Animal League. With only three limbs, Sunny will compete in this year's Kitten Bowl.
Talk about an MVK.
This will mark the fifth year of the furry sporting event. Similar to this year's Puppy Bowl, the kittens featured in the Bowl were rescued from the country's recent natural disasters, and all are available for adoption. Adoptions are sponsored through North Shore Animal League, which boasts itself as the world's largest no-kill animal rescue and shelter. Do yourself a favor and adopt an adorable furry friend!
While it might not shape up to be quite as energetic than the Puppy Bowl, these kittens are sure to showcase some stellar agility.
Want to get to know these furry all-stars a little bit better? For the first time ever, Hallmark Channel plans to share each kitten's "survival stories." The North Shore Animal League visited each hurricane devastated area and rescued the kittens themselves. Beth Stern, animal advocate and host for this year's Kitten Bowl, spoke to CountryLiving.com about the Kitten Bowl and the impact this event has on both the animals and those who adopt.
She said,
I always say that when you adopt from a shelter you're saving two lives. You're saving the life of the pet that you're bringing home, but you're also opening up space for somebody new. This year on the show we have a number of kitties who were brought back from Hurricane Irma and Hurricane Harvey. You'll see their whole journey from rescue to playing in the game and then ultimately finding their forever families.
Also, you thought you were a cat-lover? It turns out that Stern currently fosters 13 cats in her home and has rescued over 550.
The idea behind the Kitten Bowl stemmed from the wild success of the annual Puppy Bowl, sponsored by Animal Planet. Bill Abbot, who is the CEO and President of Crown Media, which controls Hallmark Channel, discussed wanting to give kittens a chance in the spotlight following the Puppy Bowl's success.
"Animal Planet had such success with Puppy Bowl we felt that kittens deserved their day in the sun as well," Abbot told the Star Tribune.
This year's game will take place in Minneapolis on a specially designed field courtesy of Bungalow 6 Design. While it may be a bit smaller than the Super Bowl's U.S Bank Stadium, the players are sure to be way cuter and more cuddly.
I'll see y'all at the tailgate. See what I did there?