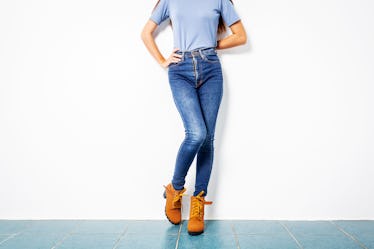 Tall Women Are Obsessed With These $22 Jeans On Amazon (Plus 10 Other Highly-Rated Pairs)
If you're 5 foot 7 or above, the best jeans for tall women are few and far between. Still, rather than settling for a pair that unintentionally fits like cropped capris, you can turn to the internet for a larger (and longer!) selection of inseams. That way, you can find a color, cut, and style that you love — all with a leg that reaches down to your ankle.
The irony of it is that the best pants for tall women are often the same brands that short or petite women prefer. That's because brands that offer varying inseams usually manufacture them in both directions — short and long. If you see that a pair of jeans offers petite sizing, there's usually a good chance they offer tall options, too.
Finding the ideal jeans for your height starts with measuring your inseam. (The inseam is the distance between the crotch to the bottom hem of the pants.) A "regular" inseam is generally somewhere between 29 and 32 inches, while the longer options usually offer 2 additional inches; inseams for tall jeans are most often somewhere between 31 and 34. Unfortunately, anything longer than 34 is surprisingly hard to find, and might require you to seek out a pair of custom jeans — but this list does offer one 36-inseam option for your convenience.
Since there's some discrepancy between different brands' definitions of extra-long jeans, be sure to check the exact measurement before you purchase. These 11 pairs come in all different styles and shades, but they all feature some added length for those who are on the taller side.