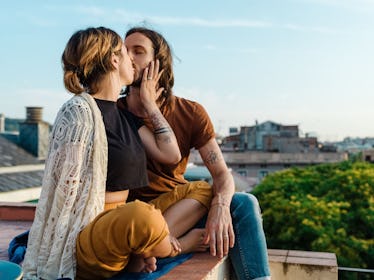 Here's The 1 Thing Couples' Therapists Tell Their Clients, So Take Notes
The idea of couples' therapy can be scary for some people, but it doesn't have to be. Couples' therapy is an incredible tool meant to help you and your partner be your best selves in your relationship and in life. Think of couples' therapists as the more experienced friends you go to when you need advice on any aspect of your relationship — except, they're doctors! And totally qualified to help you and your bae through anything. Even though each relationship is different, there's one thing these couples therapists tell their clients, and it's really beautiful.
Every relationship has its own set of problems; some are easier to tackle right away, while others tend to come up over and over again. When you continuously find yourself going in circles with your partner about the same topic, it can be hard to admit that it might be best to seek some outside assistance. "On average, couples wait about six years before they seek help, and that's a lot of extra time for damage to be done," Anita Chlipala, dating expert and licensed marriage therapist told Elite Daily. When a part of you feels like your relationship could benefit from couples' therapy, but you continue to deny it, you can end up doing more harm to your relationship than good.
I spoke to three couples' therapists, and they delivered some of the most beautiful and extremely real things they tell all their clients. BRB, crying.