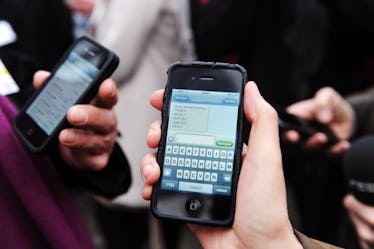 This Text Message Rejection Hotline Is Here To Help Get Rid Of Creepers
MEHDI FEDOUACH/AFP/Getty Images
If you're like me, you enjoy going to a bar for drinks with friends. It's what you do as a young working woman in your 20s. And if you're like me, you've also had the uncomfortable encounter with an overzealous dude that has his eyes set on you, or at the very least your number. (Hopefully you're not like me and you don't give out your actual number, only to ignore or block it later.) Well, ladies, now there is a solution to this commonplace social occurrence — the text message rejection hotline.
On Oct. 23, feminist pop culture site The Mary Sue announced the launch of their new text message rejection service called The Mary Sue Rejection Hotline. The service is a number that you can hand out to dudes who you just don't want to deal with. Your "suitor" can either call or text the number (646-926-6614), and they will (after a delay) receive this message:
"Oh hello there. If you're hearing this message, you've made a woman feel unsafe and/or disrespected. Please learn to take no for an answer and respect women's emotional and physical autonomy. K THANKKS."
Giving out fake numbers is now a thing of the past! Now you can send guys a clear, pre-written rejection message without even thinking about it. The Mary Sue hopes that this hotline will help guys "learn that pestering a girl for her number is not a good look and if you do ask one time and she is reluctant, cut your losses."
Although this is a great service that The Mary Sue is providing for women (and definitely a number that I'll be saving in my contacts), when you think about it, it's actually sad that something like this feels necessary in 2017.
In the wake of the Harvey Weinstein sexual assault allegations that have been pouring in since the story first broke on Oct. 5 via The New York Times, one thing has become abundantly clear: women today still feel the need to keep silent about feeling sexually harassed, pressured, or even assaulted by men. A common theme among the accusations against Weinstein are the allegations of pressure — to be polite, or to be quiet, or to go along. For example, model and actor Cara Delevingne took to Instagram to share her own horrifying account of feeling pressured by Weinstein to engage with him sexually. She claimed in the post that she tried turning down his advances multiple times before managing to eventually escape the situation. More than 50 women have also accused the disgraced producer.
Weinstein denied allegations of sexual assault in a statement via a spokesperson. It read in part,
Any allegations of non-consensual sex are unequivocally denied by Mr. Weinstein. Mr. Weinstein has further confirmed that there were never any acts of retaliation against any women for refusing his advances. Mr. Weinstein obviously can't speak to anonymous allegations, but with respect to any women who have made allegations on the record, Mr. Weinstein believes that all of these relationships were consensual.
Hollywood has come out in full force, supporting the women who've come forward with their accounts of sexual abuse. On the Today show on Oct. 24, George Clooney, Matt Damon, and Julianne Moore expressed their outrage over the scandal:
But the heartbreaking fact is that this scandal took decades to be made public. That women in the 21st century still feel silenced is unacceptable, and we need to continue to support and empower women to speak their truths —including just "no" — in the entertainment industry and beyond.
Now, I'm not by any means saying that every dude at the bar who approaches a woman will assault or harass her. But sadly, it does happen. And rejection can even be deadly.
Men need to understand when a woman says "no," that it doesn't mean she's flirting or playing coy. A "no" literally just means "no." But in the meantime, The Mary Sue Rejection Hotline is here for you.