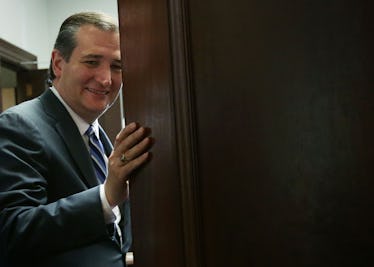 Ted Cruz Basically Admitted To Being The Zodiac Killer & Twitter Is Shook
Alex Wong/Getty Images News/Getty Images
What is happening with Ted Cruz's Twitter account?? After an ahem, *risqué* tweet last month, there's now a new contender for most bizarre social media posting from the Texas senator, after Ted Cruz tweeted a Zodiac Killer letter on Oct. 18. Dude, this is not going to help those memes.
In case you're out of the loop on bizarre political conspiracy theories: for the past few years, there's been a ongoing joke that Cruz is actually the Zodiac Killer, the mysterious serial killer who terrorized Northern California in the late 1960s and early 1970s, and taunted the police with a series of cryptic letters. The Zodiac Killer, who has never been identified, claimed in letters to the police to have killed 37 people, though only five murders have been definitively attributed to him.
Never mind that there's literally no way Ted Cruz could actually be the Zodiac Killer, as he wasn't even born when the killer started his spree. The Internet doesn't care about your logic. Ted Cruz is vaguely robotic and creepy, and kinda even looks like sketches of the Zodiac Killer (if you squint real hard). He says serial-killer-esque things, like how he has a pantry full of soup, and according to his college roommate he used to wander outside the women's dorms wearing a paisley bathrobe. And none of this is even going into the theory that Ted Cruz is actually a Lizard Person.
Plus, a solid 38 percent of Florida voters think it's possible that Cruz is, in fact, the Zodiac Killer. And as we know, Florida is never wrong.
So, when he tweeted out what appears to be one of the cryptic, coded letters sent by the Zodiac, well … Twitter went nuts.
I'd say this was a big joke, except does Ted Cruz even have a sense of humor? Can Lizard People appreciate human memes?
The one sure takeaway from the tweet, honestly, is that whatever intern Cruz assigned to run his Twitter account is a national treasure.
This is the second bizarre tweet out of Cruz's account in barely a month, after an unidentified staffer accidentally "liked" a, to put it bluntly, hardcore porn tweet from an account called "Sexuall Posts" from the senator's official Twitter. Classy, Ted.
Of course, the internet was all over that, too.
And even better, Trump's old college roommate chimed in, with some jokes that I'd rather not think too hard about.
The tweet was quickly removed, but not before the Internet had its fun. Cruz later said that liking the porn tweet was a "screw up" by a staffer, though he didn't name names. Yuh-huh. Sure thing.
If you're starting to think that the internet is being too hard on poor old Ted, let's not forget what the man has actually done.
He's opposed LGBT rights, including trans individuals' access to bathrooms that correspond with their gender identity, and opposed marriage equality. In 2013, he voted against the Violence Against Women Act, and as a presidential candidate he promoted the (false) idea that Planned Parenthood sold fetal body parts and supported allowing companies to deny women birth control coverage. Even as recently as this October, he urged the Senate to pass a bill banning abortion after 20 weeks, citing "the safety and health of Texas women."
Outside of civil rights, he was instrumental in prompting the government shutdown crisis in 2013 in order to try and force a defunding of the Affordable Care Act (ACA), better known as Obamacare.
Heck, not even his colleagues in the Senate like him. South Carolina Senator Lindsey Graham even joked back in February about how Cruz was so unpopular, "if you killed Ted Cruz on the floor of the Senate, and the trial was in the Senate, nobody would convict you."
So basically, revealing himself as the Zodiac Killer would probably be a step up for ol' Ted's popularity. To be fair, it probably couldn't get much worse.