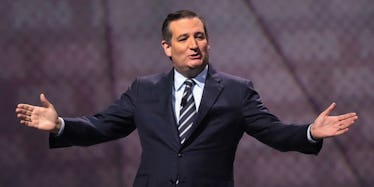 Ted Cruz's Twitter Liked A Porn Tweet And Everyone Lost It
Scott Olson/Getty Images
Very rarely will you get an internet story that requires absolutely no exaggeration to fully express how hilarious it is. And yet here we are, able to tell you with a straight face, that Senator Ted Cruz likes porn. That is literally what was discovered after someone literally looked at Cruz's literal Twitter account, and grabbed a screenshot literally from his likes, which showed a literal porn clip.
We're literally not kidding.
Naturally, the news has been inspiring all types of funny tweets since the screenshot began making the rounds late Monday night, Sept. 11.
Our prayers and thoughts for Ted Cruz this morning. Nothing is too hard for him to beat.
Another, CNN's Chris Cillizza added,
No matter what happened to you this morning, you're having a better day than Ted Cruz.
Oh, and just so we're clear, Cillizza isn't just talking about Cruz liking porn (by the way, did we mention a porn clip was literally in his likes?). But there's another unflattering story that's making the rounds on Tuesday morning: the fact that the senator's former college roommate took the opportunity to dunk on Cruz in lieu of the literal porn like.
The former roommate, Craig Mazin -- who's a notable film director in his own right -- wrote on Twitter,
Now imagine Ted Cruz is doing this four feet below you in the bottom bunk bed. Yes, my misery very much appreciates your company.
I never wanted this for any of you. I thought maybe I'd feel better if two or three people knew. Not six billion. That said? I FEEL BETTER.
And now, those two tweets about Ted Cruz's literal liking of porn have joined all the other in the pantheon of absolutely hilarious takes on this very important news story.
Here are some of the others:
By the way, today isn't the first time Cruz's old roommate has made such a comment. Last April, when Cruz was still a Republican primary candidate, Mazin tweeted,
Ted Cruz thinks people don't have a right to 'stimulate their genitals'. I was his college roommate. This would be a new belief of his.
Yikes.
By the way, if you're one of the buzzkills questioning why this is news, you must be new here. Rule number one of the internet is very simple: It doesn't matter who you are, if you do something hilarious, the jokes will come for you. For the love of God, we turned Michael Jordan into a meme and every kid born past the new millennium will remember him as "that guy from the crying face." Nobody's safe out here.
Furthermore, I don't make the rules. In fact, I don't even follow all of them. But damn it, this one is a rule that deserves some adherence.
Also, it doesn't help that Cruz's literal porn like contradicts his own public stances on sex-related issues, one of them being a case in which he was part of a legal team that stated,
There is no substantive-due-process right to stimulate one's genitals for non-medical purposes unrelated to procreation or outside of an interpersonal relationship.
So yeah, the irony here just adds to the story.
By the way, none of this is to judge Cruz.
I mean, it's hilarious, for sure. But the actual act itself? Meh.
It's the context, though, that's a killer here. That is to say, you can't just be a public figure as significant as Cruz and just go literally liking porn clips all willy nilly. That's a one ticket to the top of Twitter's trending topics.
As you can see from these jokes, no one wants to be there, at least not for a literal porn like.