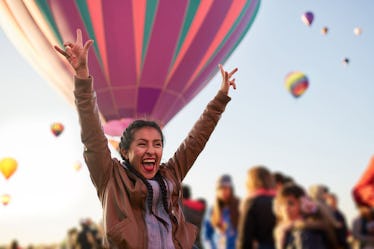 TAZO Tea Is Selling Unreal Experiences For $3.99 & They're The Best Gifts You Can Give
Holiday gifting can be a struggle. It not only gets really expensive, but it can be very difficult finding just the right gift for all of your friends and family. You want to avoid spending money on something that will end up gathering dust or getting re-gifted. This year, rather than giving material things, consider gifting experiences instead. Whether it's a fun trip, a day at the spa, or just a night at the movies, your loved ones will seriously appreciate your thoughtfulness. If you're unsure where to start, TAZO Tea is selling experiences for $3.99 on Cyber Monday, and it's probably the best deal of the year, in my opinion.
Yup, you read that right. You only have to pay $3.99 for an unreal experience. And the experiences aren't just a trip to the movies. They're pretty extravagant — and your loved one will never know that it only cost you $3.99. Inspired by TAZO Tea's knack for "brewing up the unexpected," the company decided to offer something truly special to shoppers this holiday season.
What experiences are they selling?
TAZO is setting up shop in four major cities throughout the U.S. — New York City, Miami, Austin, and Los Angeles — to bring adventure to people for the cost of a box of tea.
In New York City, guests can participate in the "Awakened Spirits" experience. The night starts off by meeting in a graveyard, then guests will be guided through catacombs to have an exclusive candlelit dinner underneath Old St. Patrick's Cathedral. The dinner will feature a divine menu of TAZO pairings and infusions prepared by a NYC chef.
The "Heightened Passion" experience in Miami will literally take you to new heights. You'll go up in a hot air balloon with a professional photographer who will teach you how to get the perfect aerial view shot from a truly unique vantage point. The experience will end with a fun picnic paired with — of course — an assortment of TAZO teas.
In Austin, Texas, you can "Journey To Calm" aboard a steam train. You'll explore some of Austin's most scenic routes by train, going over wooden bridges, splashing rivers, and beautiful canyons. On the train, there will be a master mixologist creating cocktails that incorporate TAZO tea, and guests will also be served hors d'oeuvres for a perfectly bougie and adventurous experience.
Lastly, in Los Angeles, you'll "Climb Into Zen" with a high wire ropes course. You'll learn to conquer your fear of heights, and will take in the beautiful views of Southern California's rocky hills and mountains.
How can you buy tickets?
All you have to do is visit the Eventbrite page. The tickets go live on Monday, Nov. 26, at 12 p.m. EST, or 9 a.m. PST. There is a two-ticket limit per person, so if you're trying to go with a group of friends, make sure you're all logged on at the same time. With unbelievable experiences like these, tickets are sure to go fast. Happy experiences!