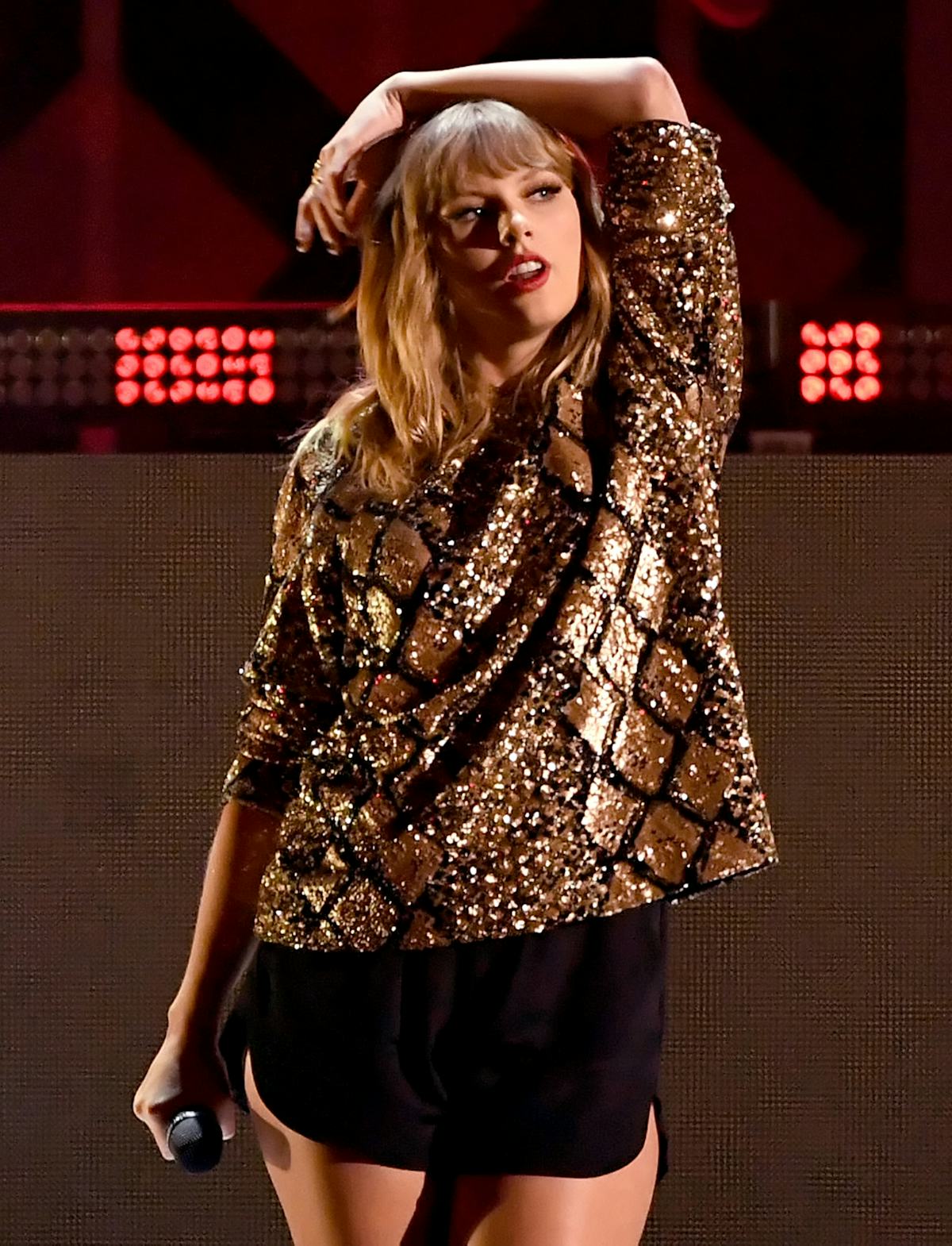 Taylor Swift Wrote A Poem For 'Vogue' Instead Of Doing An Interview & It's Deep
Kevin Winter/Getty Images Entertainment/Getty Images
Ya know, I don't know what's up with Taylor Swift these days. Ever since she dropped her latest album, Reputation, the "Look What You Made Me Do" singer has been serving us something totally unique and new. And that's across the board in her music, fashion, haircut, and overall attitude. Her latest cover shoot for British Vogue is downright fascinating, and Taylor Swift's Vogue poem is, like, a whole thing, guys.
As part of a "transformative fashion shoot" with photographers Mert Alas and Marcus Piggott, Swift traded in her girl-next-door vibes for a look so edgy and fierce. Vogue Editor-in-chief, Edward Enninful, said,
For me, the chance to help transform America's most fascinating sweetheart was a joy. As we took the pop icon on an epic fashion journey with photographers Mert Alas and Marcus Piggott, what struck me most about Taylor was her brilliant sense of humor, but also how, for a woman in her twenties, she has an incredible sense of who she is.
I mean, take a quick look at some of the intense pictures from the shoot.
According to Enninful, it was an emotional day on set for Swift. He added,
... Obviously, she is a world-class lyricist – and has written a stunning poem just for Vogue on the timely subject of reinvention and moving on – but she also takes her duties as a role model very seriously. Taylor is acutely aware of her following and how she communicates with young women, and will never portray a character that would send the wrong message. That said, even superstars aren't immune to the power of a great dress. Taylor says she has never seen herself transformed like this before, and I was very touched to see how emotional she was at the end of our shoot day in London.
The poem is called "The Trick To Holding On," and in true Taylor Swift fashion, it ignites feelings of both nostalgia and change. Entertainment Tonight suggests it could also be about people she's "loved and lost" in life.
Honestly, it could be about literally ANYTHING knowing this girl, but there's no doubt about it — the poem is beautiful. Take a look.
The Trick To Holding On
Let go of the ones who hurt you
Let go of the ones you outgrow
Let go of the words they hurl your way
as you're walking out the door
The only thing cut and dry
In this hedge-maze life
Is the fact that their words will cut
but your tears will dry
They don't tell you this when you are young
You can't hold on to everything
Can't show up for everyone
You pick your poison
Or your cure
Phone numbers you know by heart
And the ones you don't answer any more
Hold on to the faint recognition
in the eye of a stranger
As it catches you in its lustrous net
How quickly we become intertwined
How wonderful it is to forget
All the times your intuition failed you
But it hasn't killed you yet
Hold on to childlike whims and moonlight swims and your blazing self-respect
And if you drive the roads of this town
Ones you've gone down so many times before
Flashback to all the times
Life nearly ran you off the road
But tonight your hand is steady
Suddenly you'll know
The trick to holding on
Was all that letting go
Taylor shared the cover photo herself with the message,
Thank you @edward_enninfuland @mertalas for your passion, spirit, and contagious laughter on set. Mert and Marcus took these photos for @britishvogue and my album photos for reputation, and it's been such a bonding experience working together so closely and talking so much about what we wanted to make. It's been a while since I've done a magazine cover. I'm really happy my first one back was with such wonderful people.#newvogue
Welcome back (or hello for the first time as your new self), Taylor.
Check out the entire Gen Why series and other videos on Facebook and the Bustle app across Apple TV, Roku, and Amazon Fire TV.