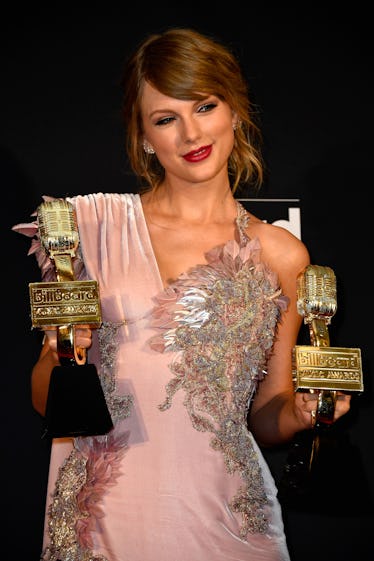 Taylor Swift Is Seriously Unrecognizable As A Redhead In Her New Music Video
Frazer Harrison/Getty Images Entertainment/Getty Images
Taylor Swift is generally known for her average-girl good looks, complete with blonde hair, bangs, and that red lip, classic thing that we like. But the pop star is giving off serious '60s Mad Men vibes in Sugarland's new video for their latest single "Babe," which the country duo will release on June 9. The teaser trailer debuted at the CMT Music Awards on June 6, and T. Swizzle is almost unrecognizable in it. Seriously, you guys, Taylor Swift's red hair in the "Babe" music video will have you doing a double take. And TBH, I am totally living for this new look on her!
"Babe" was co-written by Swift and Train's Pat Monahan (who is sadly, not in the video), and it's on Sugarland's upcoming release "Bigger," which comes out on June 8. The "Babe" video drops the next day. In it, Swift inhabits the role of the Other Woman who comes between Sugarland's Jennifer Nettles and her cheating husband, played by Superman himself, Brandon Routh. The clip features Nettles pushing a shopping cart through the aisle of a supermarket, kissing her husband goodbye, setting the table for dinner, and then, sadly, sitting down and sipping a martini alone, while Swift struts around like a saucy vixen with those bright, fiery locks.
Watch:
So good, right?
And I'm not the only one who thinks Swift looks like a natural ginger. Shortly after the clip aired, Twitter erupted with fans voicing their approval for Taylor Red-Hair Swift.
Seriously, the red hair is so hot, Tay Tay! I am just really digging the whole Cherry Blossom thing, and I can't wait to see what goes down in the rest of the video!
"It's your favorite summer movie you haven't seen yet," Sugarland's Kristian Bush told Entertainment Tonight on the CMT red carpet. You're gonna die. I died."
"It's cinematic," added Nettles. "It's a period piece, if you will. And also, Taylor wrote the treatment for it, so that's exciting."
"It's red-headed Taylor," Bush interjected. "Which I think is... it could be a giveaway if you're a Mad Men fan, but maybe not."
Hmmm.
So how did this whole collab come to be in the first place? According to Nettles, Swift is a longtime Sugarland fan, and she basically called them up and asked to work with them.
"She was gracious enough to reach out to us when she heard we were coming back together and doing a record," she told ET. "She said, 'I have a song, would you like to do it?' And we said, 'Uh, yeah!' She's a fantastic songwriter. She's one of the best."
"I was a little anxious," Bush added. "I didn't want to mess it up."
Meanwhile, Blake Shelton turned out to be the big winner of the night at the CMT Awards. His "I'll Name the Dogs" won video and male video of the year. And Little Big Town — another country act that Taylor collabed with — hosted the show and took home the prize for group video of the year for the third year in a row.
Here's a complete list of all the 2018 CMT winners:
Video of the Year: Blake Shelton, "I'll Name the Dogs"
Male Video of the Year: Blake Shelton, "I'll Name the Dogs"
Collaborative Video of the Year: Kane Brown featuring Lauren Alaina, "What Ifs"
Female Video of the Year: Carrie Underwood featuring Ludacris, "The Champion"
Group Video of the Year: Little Big Town, "When Someone Stops Loving You"
Duo Video of the Year: Dan + Shay, "Tequila"
Breakthrough Video of the Year: Carly Pearce, "Every Little Thing"
CMT Performance of the Year: Backstreet Boys and Florida Georgia Line, "Everybody"