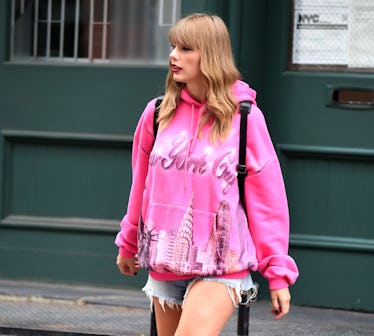 Taylor Swift Wore An Almost $900 NYC Tourist Sweatshirt, So "Welcome To New York" I Guess
Kristin Callahan/ACE Pictures/Shutterstock
Taylor Swift's style often changes in coordination with her music, but her most recent street style outfit was more of a throwback to 1989 than her current Reputation tour. Taylor Swift's pink New York City sweatshirt isn't your average touristy souvenir. In fact, the pricey threads cost the singer (...ready for it?) a whopping $895.
Swift was in the New York City-area the weekend of July 21 and 22 for her Reputation tour. The songstress performed at East Rutherford, New Jersey's MetLife Stadium (New York City's closest arena for such stadium tours) two nights in a row, and conveniently crashed at her Manhattan apartment while in town.
Swift "moved" (because do celebrities actually ever live in one place?) to New York City in early 2014, and the city was the inspiration for her 1989 hit, "Welcome To New York." Swift spoke to E! News in 2014 and said, "I dreamt about moving to New York. I obsessed about moving to New York," and called in an "electric city."
It's now 2018, and Swift's love for the Big Apple is stronger than ever... or at least, so says her sweatshirt. The "Delicate" singer stepped out of her Manhattan apartment wearing a not-so-subtle homage to her East Coast home — oh, and the outfit was also not-so-cheap.
You may, at first, think that Swift picked up her sweatshirt from one of those famous street vendors on Canal Street, but my fashion-obsessed eye knows better than that. Swift's sweatshirt is from Balenciaga (the same brand that sells $895 platform Crocs, for reference), and while it's seemingly inspired by a typical New York City souvenir purchase, the hoodie is far from it in cost.
Balenciaga New York Hoodie Sweater
The sweatshirt says "New York City" on it in faux-sparkly font and has images of some of New York's most iconic architecture. The graphics include the Empire State Building, the Statue of Liberty, the Chrysler Building, and the Flatiron Building. But... an almost $900 sweatshirt?
I'm a die-hard Swiftie, but I cannot justify paying that much for pretty much anything. I suppose $895 is a drop in the bucket for Swift, and more power to her for being able to afford it, but I'm going to sit this one out.
The Balenciaga sweatshirt was not the only expensive part of Swift's outfit. The Mother of Cats (Dr. Meredith Grey and Detective Olivia Benson), also wore Alexander Wang Frayed Denim Shorts ($295; farfetch.com), Giuseppe Zanotti Design Austin Pony Fur Boots ($389; 6pm.com – originally $1,295 at farfetch.com), and carried a Christian Louboutin Backloubi Small Nylon Backpack in Black ($1,190; neimanmarcus.com). If you account for the original price of the shoes, Swift's outfit rings in at $3,675.
Twitter had lots of feelings about the sweatshirt.
Swift's fans are just trying to keep her informed.
Some loved the fact that she was embracing the tourist style.
Fans were dying to get their hands on one, too!
And others were pointing out their money-problems in relation to Swift's, which, same.
T.Swift works hard for her money and she can and should rock that outfit if she d*mn well pleases, but it's gonna be a no from me.