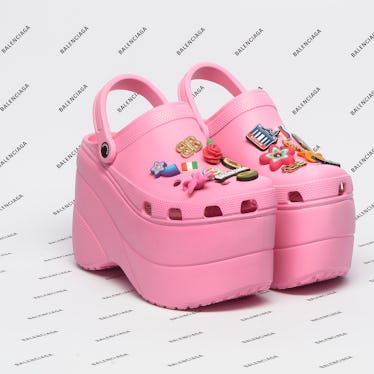 Platform Crocs Called "Foam" Shoes Are Here And Twitter Is Really Torn About Them
Leave it to Paris Fashion Week to bring us a controversial (yet very trendy and so, so good) pair of shoes. At their spring '18 show, Balenciaga debuted an exciting collaboration with a brand known for its steadfast haters and loyalists alike: Crocs. The Paris-based fashion house sent the fashion world (and, you know, all of Twitter) into a fury when people spotted their upcoming platform Crocs called the "Foam." Though where to buy Balenciaga x Crocs is obvious (spoiler: Balenciaga's website) here's everything we know about the shoes I'm weirdly setting a reminder to order as soon as possible.
They're an innovative shoe for Crocs.
Michelle Poole, senior vice president of global marketing and product at Crocs, released a statement after the cozy-looking shoes' grand runway moment. "When Balenciaga approached us, we were intrigued by the opportunity to push the boundaries of our design and molding capabilities to see what we could create together," she said. They certainly pushed boundaries, because the platform clogs — which were photographed on the runway in pink, yellow, and dark gray shades to name a few — feature a trendy nod to '90s fashion, and people have opinions about the surprising collab.
Poole touched on the excitement team Crocs felt working with Balenciaga on the "Foam." She continued in her statement,
Working with Balenciaga has been so much fun for our team, and once again demonstrates the relevance of our iconic clog in today's fashion and design world, as well as allowing us to tap into the excitement and energy that comes from unexpected partnerships.
You might've noticed Crocs creeping back into popular fashion. Even Urban Outfitters sells 'em, The Fader Notes. However, this isn't the first time the brand has collaborated with a designer for a Fashion Month moment. According to Footwear News, Christopher Kane has worked with the famed clog brand for the past three seasons, even sending a Swarovski-encrusted pair down the runway at London Fashion Work.
Balenciaga brought their own unique flair with the "Foam."
By adding playful charms like roses, shooting stars, puppies to the otherwise ordinary slip-ons, Balenciaga gave the "Foam" customizable and high fashion appeal. Closeup shots from the runway show statement Balenciaga logos and edgier charms, so they're not too nostalgically sweet.
Needless to say, it's as if Crocs and Dr. Martens have had an haute baby.
"These are Croc Martins."
Twitter user @IanWilliamz thinks they're "horrifying," but I'm enthused. Maybe it's because I've owned many textured and platform shoes in my lifetime. There were those foam flip flops everyone had in middle school, the Steve Madden clogs that just recently made a resurgence, rubber sandals — I mean, the footwear scene doesn't shy away from interesting materials. Is it horrifying? Maybe. Yeah. I don't know! But I must own a pair.
The verdict re: Balenciaga x Crocs is still out on Twitter, too.
Some people are "uncomfortable."
Others are willing and able to admit they want them in their closet, stat.
Hello, they come in PINK.
And yellow!
Just look at those sporty details: cool lines and textures, a mega high platform, and a strap to ensure your precious feet remain secure in such statement (presumably comfortable) Balenciaga homes.
"Okay fine I love balenciaga crocs whatever"
Sue me. They are beautiful and will make me, a very short person slightly under 5'0" IRL, look taller. (Though still probably a foot shorter than the models who made me lust after them in the first place.)
At the end of the day, THERE ARE NO RULES.
What do you think of Balenciaga x Crocs?
Check out the entire Gen Why series and other videos on Facebook and the Bustle app across Apple TV, Roku, and Amazon Fire TV.