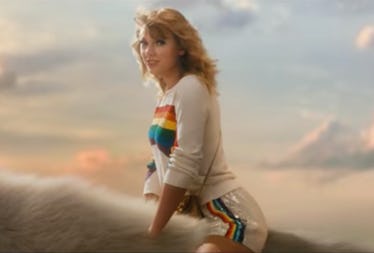 Taylor Swift Rides A Unicorn Version Of Her Cat In This Vid & It's Pure Magic
I've ridden quite a few horses in my day, but I can't say I've ever hopped aboard any exotic animals. And while I've seen people saddle up on anything from donkeys, to camels, llamas, and even elephants, Taylor Swift's DirecTV commercial actually shows the "Blank Space" singer riding a unicorn version of her cat. It's unlike anything I've ever seen in my life, and it's beyond magical.
I wouldn't necessarily consider myself to be a diehard "Swiftie," so I don't know a ton about the "22" singer. But, I do know a lot about her love for felines. In fact, she's a notorious cat lady. Unsurprisingly, one of Swift's most beloved cats named Olivia Benson stars in her latest DirecTV commercial in the form of a giant unicorn cat (aka "unicat"). Anyway, unicat Olivia Benson is elephant-sized, has a rainbow horn in the middle of her forehead (which matches Swift's rainbow sweater), and has the ability to fly. If all felines resembled Olivia Benson as a unicat, I'd own eight. She's glorious.
Although the bright colors and giant creature kind of distracted me from the actual commercial, it's apparently an advertisement for DirecTV Now, a streaming service owned by AT&T. I really couldn't stop watching Swift riding that unicat, though. With the TV announcer also on Olivia Benson's back, spewing tidbits of DirecTV knowledge, the three venture through the forest, sprinkling magical pixie dust, and majestically leaping over canyons. You'll see it for yourself when you finally drop everything and watch the commercial in its entirety. I promise you won't regret it. It's completely worth your time.
The glorious journey ends with unicat Olivia Benson, Taylor Swift, and the TV announcer emerging from the magical forest. Olivia Benson lets out a victorious meow into the sunset, and it's one of the single most majestic things I've yet to see. TBH, I really wish I was there to witness it in person.
OK, so now that you've seen it for yourself, I have a few (quite pressing) questions. Where can I get a unicat to call my own? Can you ride these through the streets of Brooklyn, New York? Also, if Olivia Benson has uni-kittens, can I please reserve one now? I'm really going to need some answers, because this is an emergency. I. Need. A. Unicat. ASAP.
This actually isn't the first time Swift has shown her love for cats to the world. Earlier this year, the singer released a music video for "End Game." Aside from looking like a total bad*ss and hanging out with Future and Ed Sheeran, Swift also shows herself hanging out with cats. One of them makes a cameo at the end while T-Swizzle sings her heart out. This cat probably has no clue that he's famous, but thanks to Swift, he definitely is. Regardless, it was so freaking adorable, and you'll totally LOL when you see it yourself.
If you haven't already seen the video of Taylor Swift riding a unicat, it's one of the most adorable things ever. Whether you're a major Swiftie, or if you simply love felines, it'll warm your heart like no other. Unicat Olivia Benson might actually be one of the seven wonders of the world, and watching her roam the forest will change your life. If you end up seeing a unicat in the wild for yourself, though, let me know where you spotted it. I'm really going to need to snag one of these for myself... along with a saddle. Oh, and a sweater to match its horn, obviously. I wouldn't have it any other way.