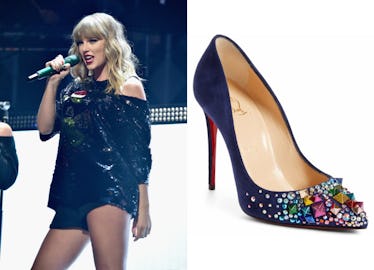 Taylor Swift Wore The Sparkliest Heels In The "Delicate" Video & They're So Gorgeous
Theo Wargo/Getty Images Entertainment/Getty Images/Christian Louboutin
Taylor Swift's music videos are jam-packed with secret messages and layers upon layers of shade. Fans spend days unpacking the hidden meaning behind it all and I gladly eat it up, but I use my time delving into Swift's style. The Taylor Swift "Delicate" music video look is so "Gorgeous" — and here's where you can snag it for yourself.
T Swizzle departed from the common music video practice of countless outfit changes and wore but one look in the "Delicate" music video. Well, one and a half (if you count the fact that she tore off the bottom half of her gown partway through the song). Numbers aside, Swift's look was mesmerizing.
The Reputation singer sported a long, high ponytail, with her on-again thick bangs framing her face. Her lips were painted with her signature red lipstick, and her eyelashes are so beautifully lush they could be in a museum. But nothing could take away from Swift's aqua blue, floor-length fringed gown and even more importantly, her outrageous heels. As Swift breaks into dance for the second half of the video, she removes her heels— and they're something to behold.
D*mn those are some high heels. Seriously, how are you walking in those things, Taylor? Let alone backwards?
No wonder she took them off, those look painful (although there are some tricks to make your heels more comfortable). It took me a second to notice, but my trained eye spotted something very special on those shoes: A red bottom. Christian Louboutin shoes are famous for having a red sole but also for being exorbitantly expensive. Brace yourself to see how much Swift's heels cost.
Christian Louboutin Keopump Pumps in Blue Multi, $1,195, Nordstrom
No, your eyes aren't deceiving you. Taylor Swift's shoes are worth $1,195 (or more if you have to pay a sales tax — they come out to $1,301 for me and my fellow New Yorkers). The pumps are made of suede and are decorated with rainbow pyramid studs and Swarovski crystals. The heel measures in at a whopping four inches and now I really understand why Swift took them off. The Keopump Flat shoes would definitely be easier to walk in, but they'll still put a dent in your wallet at $995 (Christian Louboutin).
Swift's sparkly shoes are pretty unique, which could explain the hefty price tag, but I've got you and your feet covered for a (much) more reasonable $50 or less.
Betsey Johnson Mayson Heels in Blue Satin, $50, 6pm
Pretty snazzy, huh? These heels are about as close as you can get to Swift's while staying in the double digit prices. They're blue, bejeweled, and beautiful.
H&M Satin Pumps With Rhinestones, $40, H&M
My own shoe wardrobe is 90 percent black, so I had to include my favorite color here.
NA-KD Satin Beaded Pumps in Cobalt, $20, NA-KD
If actually being able to walk around in your shoes is your thing, this affordable option has a manageable two inch heel.
Swift's dress was also a feast for the eyes. It started out a floor-length gown but the singer almost magically rips off the bottom to reveal a mini dress for her dance number.
Swift's convertible dress was custom designed by Naeem Khan based off of a similar dress of his. The original, yellow dress sells for $3,495 (naeemkhan.com) so Swift's version of it is basically priceless. However, if you're in the market for a similar style, the below beauty absolutely rules.
Asos Fringe & Lace Plunge Bodycon Mini Dress, $60, ASOS
This practically is Swift's dress.
Swift also wore Anabela Chan Sapphire Twinkle Ear-Jackets ($850; anabelachan.com), see below for your new earrings.
Bling Jewelry Ear Jackets
Bling Jewelry Ear Jackets, $40, Bluefly
Shockingly similar, right? I'm that good.