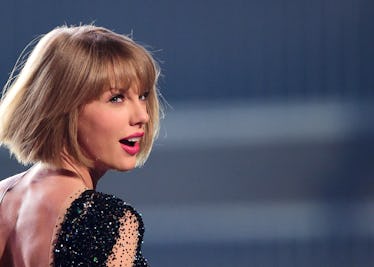 Taylor Swift Explained Those "...Ready For It" Naked Scenes & It's So, So Perfect
ROBYN BECK/AFP/Getty Images
Taylor Swift's new music video "...Ready For It" is an explosive, sci-fi spectacle. The singer marches around, shattering a huge tomb of glass, climbing onto an animatronic horse, and is surrounded by a bunch of Darth Vaders (?) in what looks like an underground fight club. There's also a part where she looks kinda nude, causing pretty much the whole internet to freak out. Well, massive apologies to everyone for the letdown, but Taylor Swift responded to naked "...Ready For It" rumors, and set the record straight. She was just wearing a really cool bodysuit.
Let's back up to how the whole #BodysuitGate started. When fans first got a glimpse of Swift as a (potentially) naked cyborg, they freaked out. Some snippets below:
OUT OF ALL THE THINGS I EXPECTED FROM THIS ERA..... TAYLOR SWIFT NAKED IN A MUSIC VIDEO IS NOT ONE OF THEM.
#TaylorSwift IS BASICALLY NAKED IN HER #readyforit VIDEO AND OMG 'LOVE STORY' 'TIM MCGRAW' COUNTRY GIRL TAYLOR IS ABSOLUTELY GONE
Remember when Kanye had that "naked" Taylor for famous? She's turning it back with android naked Taylor for#ReadyForItMusicVideo
Others were less enthusiastic, and a whole lot more critical.
Taylor swift naked in her video shes not a good role model my daughter jennifer came home crying, we are burning our reputation tour tickets
Taylor Swift, why did I just see your naked body in your new music video preview?? This is NOT okay.
OK, so Swift might be shacked up in London shooting music videos, hand wrapping gifts, and hanging with Joe Alwyn, but that doesn't mean she doesn't hear all of the internet commotion. The singer set the record straight on Oct. 27 by posting a few behind-the-scenes pictures featuring herself in a flesh colored bodysuit.
Swift didn't really need to defend herself in the first place, because fans were ~shaking off~ haters already.
Side note: HOW do you look THAT good in a bodysuit. Seriously. Like, is there some sort of workout routine we can all follow?
Naked cyborg confusion aside, don't expect the pop singer to disrobe anytime soon. Swift has been pretty adamant about nudity in the past. She told Elle Magazine in 2014,
I find it relatively easy to keep my clothes on because I don't really feel like taking them off. It's not an urge I have. For me, 'risky' is revealing what really happened in my life through music. Risky is writing confessional songs and telling the true story about a person with enough details so everyone knows who that person is. That's putting myself out there, maybe even more than taking my shirt off.
That makes a lot sense. It takes a lot of guts to write deeply personal, not at all subtle songs about some of the biggest names in the music industry (hi, Harry Styles) and then show up at award show after award show and have to see them.
Plus, Swift is very conscious about the message she's sending fans, and has talked about taking her position as a role model seriously. She told 60 Minutes in 2011,
I definitely think about a million people when I'm getting dressed in the morning, and that's just part of my life now. I think it's my responsibility to know it and to be conscious of it. It would be really easy to say, 'I'm 21 now, I do what I want. You raise your kids,' but it's not the truth of it. The truth of it is that every singer out there with songs on the radio is raising the next generation, so make your words count.
You keep doing you, T. Swift. And we'll keep wishing we could rock a flesh colored bodysuit even a fraction as well.