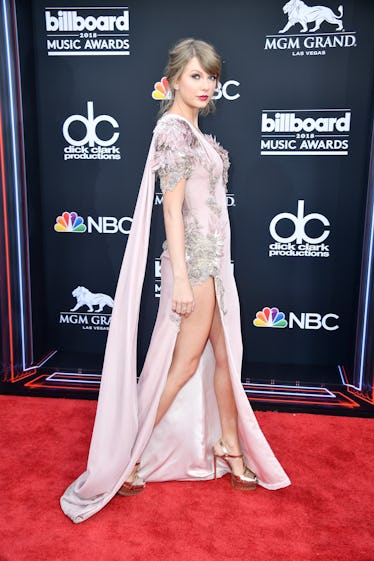 Taylor Swift Attended The 2018 Billboard Music Awards & Surprised Literally Everyone
Frazer Harrison/Getty Images Entertainment/Getty Images
It's a big night for Taylor Swift. For one thing, she's the only female singer nominated for Top Artist of the Year at the Billboard Music Awards. YAS, queen — way to represent! She's also up for the Top Female Artist award, and if she wins, it will be her third time taking the category, which would break her tie with Adele, Mariah Carey, and Rihanna, who have all won the award twice. She didn't show up for the ceremony last year, but Taylor Swift just showed up to the BBMAs on the night she could actually make history! That's right, we can all relax now, because T. Swizzle is officially in the hizzle! Sorry for that, I'm just so pumped that she showed!
According to a Spotify commercial for the #BBMAs, Swift will be appearing during the award ceremony tonight, and there are rumors she'll also be performing! And OMG as much as I want to see her bring home that third win, now I just wanna know... is she really planning to hit the stage? And if so, what is she going to sing?! I really hope it's "Look What You Made Me Do". It was the number one single off her sixth album, after all. "Reputation," sold more than 1.2 million copies in its first week, making it the bestselling album of 2017, and it also featured the song "Ready for It," which reached the top-five.
As for bringing home the win tonight, I know it's a pretty tough category. Swift is up against veterans performers like Demi Lovato, and well as super-hot up and comers like Camila Cabello, Cardi B, and Halsey. Sure, Cardi definitely has the most buzz going right now. But you know what? Even if Swift doesn't win, I'm still glad she's here because she always has such a good time. Remember the way she rocked out in the front row back in 2015?
So epic.
As for why Swift was a no-show at the BBMAs last year, according to People, she was making a conscious effort to take some time for herself. A source told the publication Swift was "feeling overexposed and like things were almost spiraling out of control." Apparently, now "she's being low-key and secretive because it makes her happy."
But now she's back. Let's take another look at her on the red carpet because she seriously looked GORG:
Werk it, girl! I really hope we get to see her shake it up at the ceremony this year with her bestie Kelsea Ballerini, who's up for Best Country Female Artist, along with Miranda Lambert and Maren Morris. The "I Hate Love Songs" singer took to Instagram on May 8 to show Swift some serious love, with a post that featured the two of them kicking back on a plush sofa, while holding big glasses of wine and wrapped in matching beach towels.
"Happy tour kickoff to my friend that is equally as inviting, warm, and entertaining drinking wine on the couch as she is on stage," Ballerini wrote in the caption. "That being said, I can't wait to come fangirl and get inspired. Potentially with a sign. Potentially also with some kind of snake apparel. Go get em, sister."
Tell 'em Kelsea! I seriously love this friendship and the way these guys support each other! Swift even rolled up later to comment on the photo. "It's so weird that people say we're similar," she wrote. "I don't see it at ALL. love you kel kel."
Rockstars, they're just like us! Although, someone better get these two a refill STAT!