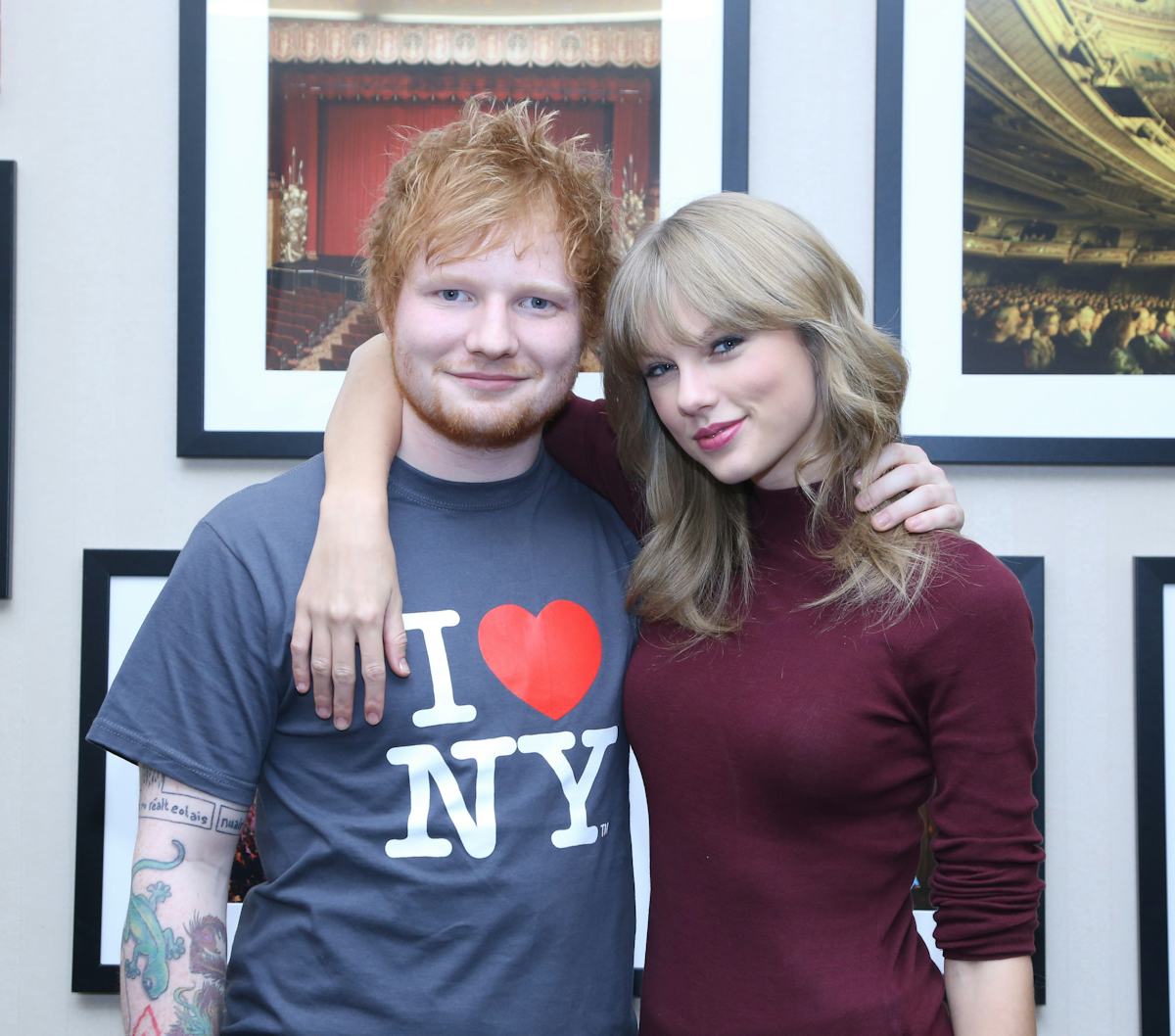 Taylor Swift Actually Helped Ed Sheeran Start Dating His Fiancée & The Story Is So Cute
Anna Webber/Getty Images Entertainment/Getty Images
If you're even remotely interested in pop culture and music, you know that Taylor Swift and Ed Sheeran are kind of best friends. The two have expressed how close they are in countless interviews and public appearances together, so we know that they have a huge presence and influence on each others' lives. But we just got another detail as to just how much she's had an impact on Sheeran's love life. Because as it turns out, Taylor Swift helped Ed Sheeran and Cherry Seaborn, his now fiancée, get together. So I guess she can officially add matchmaker to her list of talents.
We know T-Swift is no stranger to relationships, cataloging all of her makeups and breakups through music for all the world to hear. But I certainly didn't know that she also has a knack for helping love bloom for people other than herself. Apparently, she is kind of responsible for the future wedding of none other than Ed Sheeran, who recently became engaged to his longtime girlfriend Cherry Seaborn. The two have actually known each other since childhood, so T-Swift can't take credit for fully introducing them — just for helping to move things along.
When Sheeran and Swift discussed their latest collaboration, from her new album Reputation, fans learned that it was because of Swift that Sheeran and his partner actually became serious. The two discussed their new song "End Game," which also features rapper Future, with Billboard in a behind-the-scenes video. When going through the song, they revealed that Sheeran's verse contains a lyric that hints at Swift's role in getting his relationship started.
The line "something was born on the Fourth of July" alludes to the Independence Day parties that Swift is known for throwing at her Rhode Island home. In 2015, Sheeran was at the party, and after learning that Seaborn happened to be in Rhode Island at the time, he asked Swift if he could invite his old friend.
It was at that party that their relationship blossomed, and so the "something" that was born on the Fourth of July was in fact Sheeran and Seaborn's relationship. And now we know that the "end game" for them is a wedding, and I could not be happier for the couple!
Although they've known each other for years, Seaborn and Sheeran went on different paths in life after graduating from Thomas Mills High School in Suffolk, England. Seaborn ended up coming stateside to attend Duke University in North Carolina, while Sheeran ended up staying behind and pursing his music. According to People, the two managed to reconnect while Sheeran toured across the United States when they could. But nothing serious ever blossomed, and they just remained friends. It wasn't until she came as a last-minute guest to this Fourth of July party (thanks to Swift) that their romantic relationship came to be. And just three years later, the pair who have known each other since they were 11 years old are engaged. This has to be one of the cutest celeb couple stories that I've ever heard.
It's clear that Swift is over the moon for these two, and I bet that she is reveling in the fact that she had something to do with this union. I can just picture her toast at the wedding now, where she will most definitely tell the story of the party that helped them reach the aisle. I mean, who wouldn't?
Finding true love is certainly worth celebrating, so why not celebrate if you're the one who helped make it happen? Congrats again to Sheeran and Seaborn — and to Swift for being an amazing, if not accidental, matchmaker.