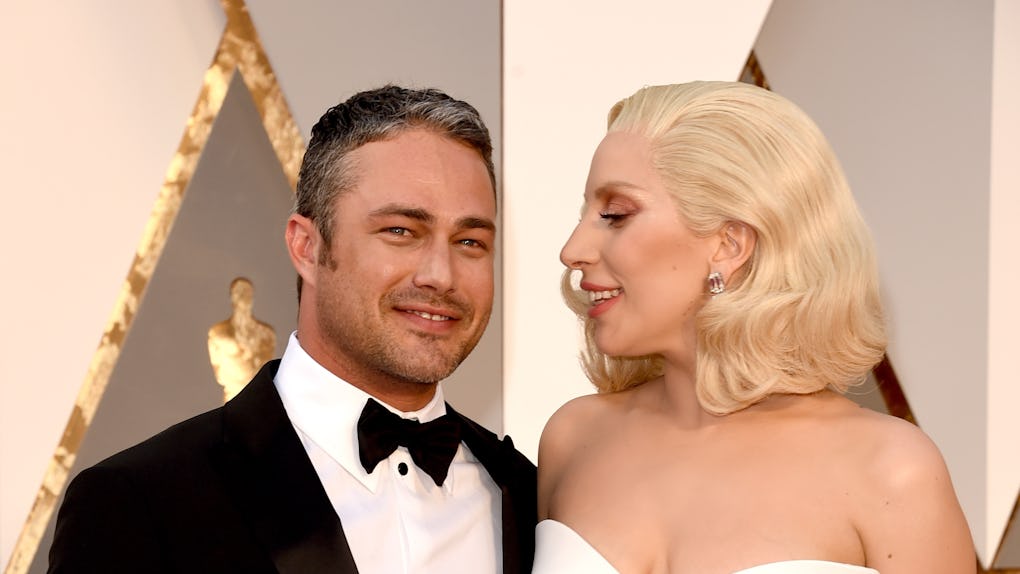 Jason Merritt/Getty Images Entertainment/Getty Images
Taylor Kinney's Comments About Lady Gaga & 'A Star Is Born' Prove He's A Supportive Ex
Is it just me, or did the Lady Gaga and Taylor Kinney pairing make your heart soar, then ultimately crash and burn when the couple called it quits? The couple, who dated for five glorious years, called off their engagement back in July 2016, and in truth, I'm not sure that I ever really got over it. I was really rooting for them, you guys. But alas, it was not meant to be, and now each of them is doing their own thang. Thankfully, though, it's clear that the two are supportive of each other's ventures even after their split, and Taylor Kinney's comments about Lady Gaga and her incredible acting chops in A Star Is Born will make you openly weep that these two aren't a thing anymore.
According to Entertainment Tonight, Kinney had nothing but kind words when it came to talking about ex Lady Gaga's newest role as an actress. At the #OneChicago press day in Chicago, Kinney said that he was "Proud. Only proud," of Lady Gaga, and when asked how he felt about seeing her in the film, he said, "I want it to do really, really well."
Well, his wish is definitely coming true, because the word on the street is that A Star Is Born is going to be everything we could ever want in a film. Gaga, who stars as talented-yet-hasn't-made-it-big Ally, who climbs her way to the top of the charts with the help of washed-up country singer Jackson Maine, played by Bradley Cooper.
Just take a look at the preview below, which will undoubtedly give you chills:
I'm not sure what's better — Gaga's acting or singing (equally incredible, if you ask me).
Just days before, Lady Gaga spoke with Entertainment Tonight's Keltie Knight about how she and Bradley Cooper decided to create the film. "I actually was performing at a cancer fundraiser for Sean Parker and I sang the song 'La Vie En Rose,' which, not to give it away, but it is in the film, and I sang that song, and the very next day, he wanted to meet me and he came over to my home," she said while attending the Toronto International Film Festival on Sunday. "I opened the door, and the second I looked into his eyes I felt an instant connection to him."
She continued, revealing that the pair ended the night singing together at her piano after sharing an Italian meal, and that scenario honestly sounds like the highlight of my life.
"I sat down and started to play, and he began to sing and I just stopped instantly in my tracks," Gaga said. "And I looked at him and I said, 'Bradley, you have an incredible voice — you sing from your gut, you sing from your soul, you sing from the nectar of your being.'"
Then, according to Gaga, Cooper decided to film it all on his phone, and that they "instantaneously" knew that they should create the film. She said:
It was instantaneous, and I knew in this moment that I could make this film with him, and I truly believe that there's no other actor or director in the world that could have played this role or made this film.
We'll have to wait until the movie hits theaters on Oct. 5 to see all this glorious chemistry on our screens. But until then, I'll just be hanging out, keeping hope alive that this movie somehow miraculously brings Lady Gaga and Taylor Kinney back together. A girl can dream, right?