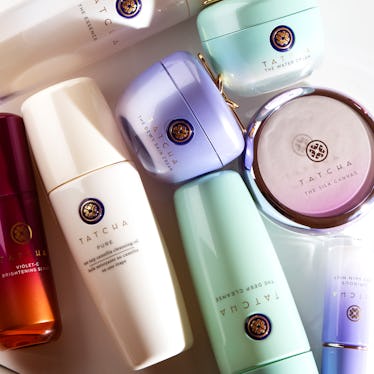 Meghan Markle's Fave Skincare Brand Is 20% Off For Black Friday
Courtesy of Tatcha
By now, your inbox is likely inundated with promotional emails for Black Friday deals (same). When thousands of brands are offering discounts on the day after Thanksgiving, what makes a sale truly stand out from the crowd? For starters, if it's a sale on rarely discounted luxury skincare products, that's generally a good start. It also helps when the brand is Meghan Markle's favorite skincare brand. Yes, the Duchess of Sussex's go-to skincare brand Tatcha is having a major Black Friday sale, so prepare your beauty arsenals and wallets. Tatcha's Black Friday 2019 sale begins on Thanksgiving — Thursday, Nov. 28 — and ends Sunday, Dec. 1, and is happening exclusively on Tatcha's website.
Unlike most Black Friday deals, Tatcha's sale isn't just a blanket discount. Instead, all visitors to the Tatcha website will be prompted to "pick a card" and reveal their mystery offer upon entering the site. The mystery offers will include one of three deals that you'll, unfortunately, have to wait to be revealed come Black Friday. Once the mystery offer is generated, customers will be issued a unique promo code to apply when checking out so you can snag your deal.
So, what can you look forward to copping once you reveal your special offer? Basically, everything on Tatcha's site with the exception of gift cards. You'll be able to shop Meghan Markle's favorite Polished Rice Enzyme Powder ($65, Tatcha) at a discount. Or, just in case you're shopping for a gift for someone else, you can snag the brand's gift sets at a discount as well.
Tatcha is also encouraging customers to return to the site each day of the sale to choose a different card and reveal the mystery offer that they want. This means you can either shop every day of the sale for major discounts on a ton of products, or you can wait until you reveal the discount you really want.
Get ready for mystery deals, huge savings, and a boatload of Tatcha products to be added to your cart this Black Friday.
This article was originally published on