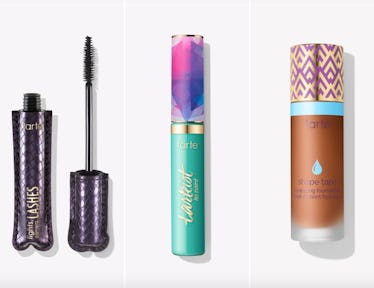 You Can Get 7 Different Tarte Products For Only $63 Total, But You Only Have 24 Hours
Tarte Cosmetics
It's just after tax season, and you know what that means: It's time to blow your entire tax return on makeup and not put it into your savings account like you told yourself you would! Don't you just love being a responsible adult? Anyway, if you're going to spend your money on makeup, best to do so semi-responsibly, right? Right. Thankfully for all of us, a pretty dope Tarte Cosmetics sale is here to help out with that. Tarte's Custom Beauty Kit Sale is back once again, and you'll have to jump on it quickly. This deal is only live for 24 hours.
Starting at 7 a.m. ET, on Thursday, May 3, the Custom Beauty Kit Sale allows Tarte customers to essentially curate their six favorite Tarte products and receive them all in their very own makeup bag. Yes, that means seven total Tarte products — a foundation, a concealer, an eye product, some blush, mascara, a lip product, and a kit to store it all in — all for just $63 total. I'm sorry, WHAT? Considering one Tarte Shape Tape Hydrating Foundation ($39, tartecosmetics.com) and one Lights, Camera, Lashes™ 4-in-1 Mascara ($23, tartecosmetics.com) cost $62 in total, I'd say you probably shouldn't sleep on this sale.
All in all, there are over 200 Tarte products you can choose from to fill up your custom beauty kit. And if you're trying to do the math to see the best deal you can get out of this sale, Tarte says the highest possible full-price value stands at $208. Sorry, I need to sit down for a second, because the thought of only paying $63 for a haul that normally costs $208 just made me feel lightheaded in the best way possible.
Here are just a few of the fan-favorite Tarte products you can nab during this 24-hour-only sale:
Shape Up
Following closely on the heels of Tarte's cult-favorite Shape Tape Contour Concealer ($27, tartecosmetics.com), the brand's Shape Tape Hydrating Foundation ($39, tartecosmetics.com) got just as much buzz. This hydrating formula is buildable and lasts for the long haul. No fading. No creasing. No other annoying things that a lot of foundations do. As someone who averages about 4 hours of sleep per night and who has dry, flaky skin, this product is truly a personal must-have.
Here, Kitty
Bless up for having the sharpest cat eye money can buy. Tarte's Sex Kitten Liquid Liner ($20, tartecosmetics.com) brings on the smudge-proof and waterproof drama with its skinny felt applicator. Whether you want a sharp-as-a-knife, long wing or just a little flick on the corner of your eye, this liner will last you through anything.
Trippy Lippy
When in doubt, paint your pout. That's what I always say... as of five seconds ago when I just made it up. But TBH, it's a good motto to have, I think. And Tarte's Quick Dry Matte Lip Paint ($20, tartecosmetics.com) will help you live up to it. The formula, while it's quick-dry, won't dry out your lips, is designed for long-wear and boasts a soft, matte finish. And with a bunch of shades to choose from, well, God help all of us indecisive folk.
Lash Out
I can't tell you how many mascaras I've tried in my lifetime that haven't lived up to their own hype. But luckily for me, Tarte's Lights, Camera, Lashes™ 4-in-1 Mascara ($23, tartecosmetics.com) didn't let me down. This cult-favorite mascara not only lengthens your lashes more than you thought was possible, but it conditions them and gives them tons more volume as well. I speak from experience when I say my own lashes appear invisible at first, but a couple coats of this formula, and my eyes look full of lashes and wide awake.
Remember, Tarte's Custom Beauty Kit Sale only lasts for 24 hours. That's it. So much to buy, so little time. Come 7 a.m. ET on May 3, head over to TarteCosmetics.com (yes, that means you international beauties as well!) to customize your own beauty kit and kiss your tax return goodbye.