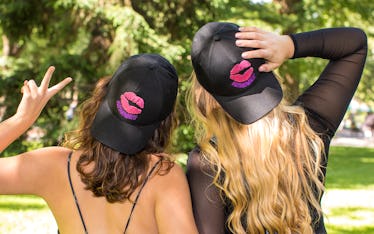 Tarte Cosmetics Is Heading To A School Near You This Month To Help End Cyberbullying — EXCLUSIVE
Courtesy of Tarte Cosmetics
If you're a fan of Tarte Cosmetics, then you'll know that quality makeup in cute AF packaging only scratches the surface when it comes to everything the brand is capable of. This past August 2018, Tarte celebrated another year of its #KissAndMakeUp initiative, launched in 2016 and aimed at putting an end to cyberbullying by spreading kindness. Now, in honor of October being National Bullying Prevention month, Tarte's #KissAndMakeUp campaign is embarking on a nationwide school tour.
The core purpose of Tarte's original #KissAndMakeUp campaign was to drown out hate with love. Wherever you saw mean comments on social media, Tarte encouraged you to comment kiss mark emojis (💋💋💋) as a way to overpower the bullying — because no one needs that kind of negativity in their life. The brand has also continuously partnered with the Tyler Clementi Foundation, a non-profit organization whose goal is to end cyberbullying, since the campaign's launch. The initiative even partly inspired the brand to start their own non-profit, "Heart to Tarte," as a way to give back even more as a brand.
Now, things with Tarte are heading to the next level. Beginning on Oct. 2, 2018, Tarte will be hosting assemblies at middle schools and high schools around the country, throughout the month of October, to really drive their messages of positivity home and help students understand the dire effects bullying can have. Each assembly will also include talks from a couple social media influencers you likely know and love, including @rclbeauty101, @rebeccazamolo, @missremiashten, @griffinarnlund, @niasioux, @nabela, and @alisha.
In addition to hearing from influencers about their personal experiences with bullying and how they cope, assemblies will also include messages from Tarte on the necessity to spread kindness on social media and how to do so; a talk from the Tyler Clementi Foundation about how students can practice creating a welcoming environment IRL; and fun activities, like making compliment cards and covering the school in Post-its featuring inspiring messages. Students will also have the opportunity to ask the participating influencers questions and even have a meet-and-greet with them following the assembly.
Of course, the party doesn't stop there. (And trust me, Tarte knows how to throw a party.) Following the assembly, Tarte will equip students with social media call-to-actions that they can share with their friends to further the messages of positivity. Via a press release, the brand also says it will launch a "#kissandmakeup Tartelette program for students to showcase how they spread kindness on their social channels." And naturally, the students will walk away with some sick Tarte swag as well.
While social media is a powerful tool that can be used to spread amazing messages, it can be a breeding ground for hate. And unfortunately, no one is immune to it — especially students. Thankfully, the importance of pushing an anti-bullying, love-spreading message in a place where people are arguably most susceptible to the effects of bullying isn't lost on Tarte Cosmetics' founder and CEO, Maureen Kelly.
"I'm so passionate about #kissandmakeup because I've seen the effects of bullying & cyber-bullying first hand — no one is immune and I want to use our platform to spread kindness," says Kelly. "Giving back has always been a part of tarte's brand DNA, and with the #kissandmakeup school tour, we want to continue spreading this message of kindness & positivity, on and off the screen. I want kids to know they aren't alone & provide a safe space to talk about it in schools."
This month, Tarte will be making its way to a total of six cities for school assemblies: Los Angeles (Oct. 2), San Francisco (Oct. 4), Austin (Oct. 11), Chicago (Oct. 17), Florida Keys (Oct. 23), and NYC (Oct. 30). Fortunately, Tarte will cover all the fun closely on their social media pages, meaning you can follow along and watch this inspiring initiative come to life.
I think we can all agree that bullying effing sucks — period. So let's make like Tarte and work to put an end to it where and when we can, once and for all.