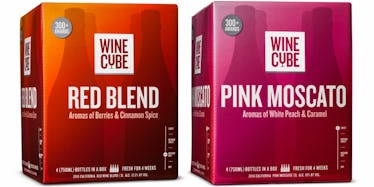 Target Is Selling "Wine Cubes" With 4 Bottles Of Wine For $18 & I'm Stocking Up
Summertime and a glass of wine pair together perfectly, if you ask me. When it comes to prepping for seasonal get-togethers like barbecues or picnics, it can sometimes be difficult to gauge exactly how much wine you'll need to keep the libations flowing. Don't worry, your favorite retailer has exactly what you need to make sure that your wine needs are met all summer long. Target's Wine Cube has four bottles of wine for $18, so you can keep yourself stocked with the good stuff without blowing your entire summer budget on wine (if you're 21 years or older).
Bringing the vino to your bestie's summer shindig sounds like an easy task, but it's easy to overthink it. You might ask yourself who likes what variety best, or wonder how many bottles will be enough. Pretty soon, it's almost party time, and you're stuck in the store doing ever-so-difficult wine math instead of popping bottles with your BFFs.
You can stop the wine calculations now, because Target's Wine Cubes have more than enough wine to keep the party going this summer. Plus, they only cost $18 for a three-liter cube (!!!), per Delish. So, even if you way overestimate and spring for two of these perfect-for-summer Wine Cubes, you'll still spend less than $40 for the equivalent of eight bottles of wine. Sounds like the perfect time to stock up.
Even better news is that there are 13 varieties of wine available in the three-liter Wine Cube. Sadly, there is not a rosé variety, but there are still plenty of options that pair perfectly with warm summer days (and nights). If a pink sip is a must-have for you once rosé season hits, you can enjoy a similar hue when you sip a glass of the sweet Pink Moscato. You can also keep the summer flavors front and center when you quench your thirst with a glass of Red Sangria.
While you're probably pumped to hear about this killer deal, you might also wonder how long that much wine will last if, say, you buy a Wine Cube for small get together. According to the Target website, the wine in the Wine Cube will stay fresh for up to four weeks after it is opened. Per Delish, there is a pro-tip about storing the wine upside down so it doesn't accidentally leak from the spout.
Speaking of the spout, did I mention that the wine pours out through an easy-to-use spout on the front of the Wine Cube? It's basically like a super-improved version of a water cooler.
When it comes to the taste of this amazing wine deal, you should probably go with whatever your favorite wine flavors already are. If you're into something sweet, the reviews on the Pink Moscato mostly give it a thumbs up for moscato flavor. Summer and white wines are a natural pairing, so you can always try the Sauvignon Blanc if you'd like a more mellow flavor. According the the reviews on the Target website, the Sauvignon Blanc Wine Cube is described as "the best boxed wine," and "comparable to medium-priced bottled sauvignon blancs." Remember, you're getting four bottles for less than 20 bucks.
The other white wines in the Wine Cube collection include: Pinot Grigio, Riesling, and Chardonnay. When it comes to red-wine lovers, they can choose from plenty of red varieties including: Cabernet Sauvignon, Red Blend, and Malbec. There are plenty of options to keep everyone at your next summer gathering happy and hydrated. Plus, you won't have to toss whatever you don't drink, since it will stay fresh up to four weeks once the cube is opened.
Now that your summer plans definitely include heading to Target to stock up on Wine Cubes, you might also wonder how in the heck you're going to get your rosé fix. While you're thinking outside the bottle when it comes to wine, you can grab a four-pack of new Lila Bubbly Rosé wine cans. The bubbly pink wine tastes great coming out of the can, thanks to Lila's specially designed internal coating and unique wine lid.
Gone are the days where you could only clink glasses to cheers the wine-filled days of summer. You can raise a Wine Cube, Lila Bubbly Rosé can, or whatever you're swigging your vino out of to celebrate your favorite drink of the season, because now you can have it any way you want it. Cheers!