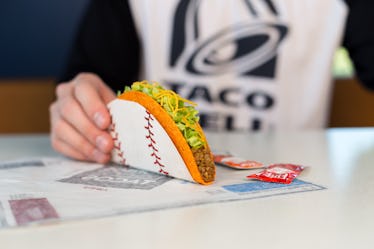 Taco Bell's 2018 "Steal A Base, Steal A Taco" World Series Deal Is Getting This Upgrade
If you happen to be a diehard Major League Baseball (MLB) fan (like myself), you're probably already gearing up for the 2018 MLB World Series, which is coming up on Tuesday, Oct. 23. As per usual, taco enthusiasts are gearing up as well, with Taco Bell's annual "Steal A Base, Steal A Taco" campaign. This year, the classic deal is even better than ever, because in case you haven't heard, Taco Bell's "Steal A Base, Steal A Taco" 2018 World Series deal is showering fans in free tacos and some additional swag. Be prepared to show off your team spirit (as well as your undying love for T-Bell), because it's going to be seriously lit.
Taco Bell's "Steal A Base, Steal A Taco" campaign awards Americans with one free Doritos Locos Taco after the first base is successfully stolen in the World Series, according to a press release. Since there's almost always at least one successful steal per game, the chance of getting a free taco is pretty good, per the release. After the first base is successfully stolen, fans can snag their free Doritos Locos Taco on Thursday, Nov. 1, between 2 p.m. and 6 p.m. (local time) at participating U.S. restaurants, while supplies lasts.
This year's campaign is better than ever, though, because Taco Bell is adding highly-exclusive baseball caps to the mix. Since World Series champions usually win championship caps, T-Bell is letting fans live mas, with limited-edition "Steal a Base, Steal a Taco" baseball caps, ready for Game One of the World Series on Oct. 23, according to the press release. If you're interested in buying one for yourself, simply navigate to the online Taco Shop. IDK about you, but I'm already in the process of ordering my own.
In a press release, Taco Bell's Global Chief Brand Officer, Marisa Thalberg, said fans always get stoked for the chain's yearly "Steal A Base" campaign, and the addition of spirited hats add yet another reason for fans to get excited.
In the press release, Thalberg said:
Every year, we're overwhelmed with the excitement from our fans when combining America's favorite pastime with America's favorite tacos. Now, we're knocking that out of the park by introducing even more ways for our fans to experience and commemorate the Taco Hero.
If you've participated in Taco Bell's "Steal A Base, Steal A Taco" deal in the past, however, there's a chance you might be interested in checking out their new baseball cards, as well. Each cards shows "Taco Heroes" who have stolen the taco-winning base from previous years. According to the press release, the chain partnered with Topps to create these glorious trading cards, and you can get your hands on them in pretty much all ballpark restaurants, starting Oct. 23. Each pack comes with six cards, and they'll also be included with cap purchases, which is yet another reason why you need to buy a hat for yourself.
After indulging on a free taco, a championship cap, and Taco Hero cards, you should try and win a free limited-edition XBox One, by ordering one of Taco Bell's $5 Double Chalupa boxes. Between Oct. 18 and Nov. 21, you'll be able to find a code on the outside of your box, which you can text in to see if it's a winning code. If it is, you can win a White Special Edition Xbox One X, an Xbox Elite Wireless Controller, three months of Xbox Game Pass and Xbox Live Gold, as well as Taco Bell's iconic "ring." Needless to say, I need to get my hands on one of those ASAP.
With the World Series coming up quickly, I can already taste that taco coming my way wit the first steal of the series. If my limited-edition hat doesn't get here by the opening game of the World Series, though, I'll be severely disappointed. But hey — in the end, at least I'll still be getting a free taco (hopefully!).