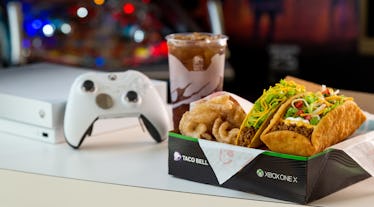 You Could Win An Xbox One With Taco Bell's $5 Double Chalupa Box For The Ultimate Game Night
TACO BELL
It's officially hibernation season, and the idea of spending a chilly fall night camping out at home on my couch with takeout in hand sounds like the epitome of the week, if I'm being completely honest. Plus, now that everyone's favorite Tex-Mex chain is teaming up with Xbox once again, the temptation is real to stay in with a Cheesy Gordita Crunch and a game of Fornite. So you can bet I was stoked when I learned that ordering Taco Bell's $5 Double Chalupa Box could win you an Xbox One, because my friends and I will be passing on many more wine nights in favor of margaritas and Xbox n' chill. Here's how you can potentially score one of these limited-edition bad boys for free, because a T-Bell spread and all your favorite games on queue sounds like a recipe for the ultimate game night.
In a press release shared on Wednesday, Oct. 17, the fast-food retailer announced that it was teaming up with the gaming company once again to offer you some great perks along with your cheesy Tex Mex meal. Beginning on Oct. 18 through Nov. 21, customers who order a $5 Double Chalupa Box can text in the code on their box to see if they won one of the limited-edition boxes, which features a platinum console, a new White Special Edition Xbox One X, and an Xbox Elite Wireless Controller, as well as three months of Xbox Game Pass and Xbox Live Gold. According to the press release, the limited-edition console will also feature Taco Bell's iconic "ring," so you can live más every time you play.
Right about now, I was thinking that this all sounds a little bit too good to be true. What are my chances of actually scoring one of these bad boys? Well, according to the fine print, one of these consoles will be awarded every 10 minutes, meaning that every 10 minutes, you could potentially be the lucky winner. Those are some pretty decent odds, and if you're alerted that you are one of the winners, Taco Bell and XBox promise that you'll get your brand new console only 72 hours later. In other words, you only have to wait three days to get your hands on your brand new toy.
Plus, every Taco Bell devotee knows that a $5 Double Chalupa Box is nothing to cough at. The deal includes an oversized Chalupa shell stuffed with three kinds of gooey cheese, a double portion of beef, lettuce, tomatoes, sour cream, and last but not least, torrents of nacho cheese sauce. TBH, I'm drooling just thinking about it. Taco Bell's $5 Box comes with your choice of one of these delicious concoctions or a spicy version as well as a Crunchy Taco, Cinnamon Twists, and a medium drink. In other words, I have no problems canceling all my lunch plans between now and November to order up this deliciousness.
This isn't the first time that America's favorite Tex Mex spot and XBox have collaborated. Taco Bell was the very first promotional partner when Microsoft first launched its Xbox back in 2001, and last September, the pair offered $5 Quesarito Boxes along with the launch of the Xbox One X. Needless to say, the pair have a long history together, and Taco Bell faithfuls are being treated to a promotion that offers the best of both worlds.
"We are excited to partner again with Xbox, but this time on a collaboration that is entirely exclusive to fans of both Xbox and Taco Bell," Marisa Thalberg, global chief brand officer at Taco Bell Corp., said in a press release. "It delights us to delight our fans with unique experiences, and what better way in this case than through the best in 'boxes.'"
Now, excuse me while I head to Taco Bell and grab one (or five) of these Chalupas. Again, you could potentially win an Xbox One X every 10 minutes between Oct. 18 and Nov. 21, so order up and hope the odds are in your favor.