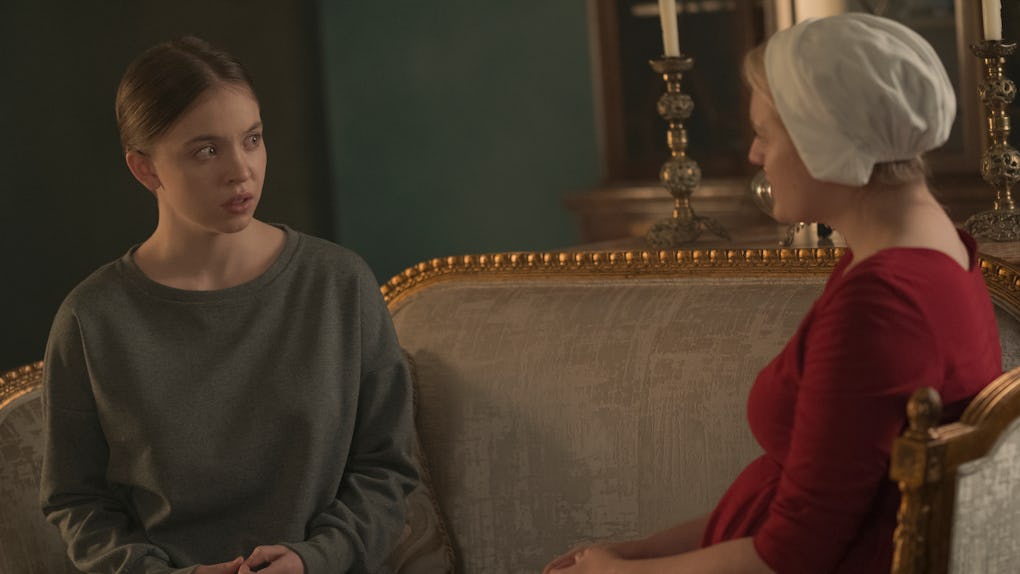 Hulu
Sydney Sweeney Says Working With Elisabeth Moss On 'Handmaid's Tale' Is "Incredible" – EXCLUSIVE
Sydney Sweeney is having an incredible year. She's been in everything from Netflix's Everything Sucks at the beginning of 2018, to a key role in Hulu's The Handmaid's Tale this past spring, to a featured guest role in HBO's Sharp Objects this summer. Sweeney has been everywhere, working with some of the hottest female stars in the business. When it comes to working with such big names, Sydney Sweeney says working with Elisabeth Moss in The Handmaid's Tale was simply "incredible."
Sweeney played Eden in this past season of The Handmaid's Tale, a 15-year-old girl from Gilead's farmlands who is tragically married off to the chauffeur, Nick. Eden then falls in love with Isaac, another member of the household, and the two of them run off together, with terrible repercussions. At only 20 years old, Sweeney said having a role model like Moss to look up to is an invaluable experience.
She is such an amazing actress, producer, collaborator. I mean, how involved she is in Handmaid's Tale is inspiring because I would love to be able to be involved in a project like she is and how she wants to make sure the show will do as well as it does. It was really cool watching her work on screen, behind the camera, preparing for other roles.
As for the choices her character made in The Handmaid's Tale, Sweeney said it was hard when she got to the big twist where Eden chooses to be put to death rather than give up Isaac.
I started crying my eyes out. I was so mad at Eden for making the decision she made, but I also understood that she was choosing love and she, in her own mind, was choosing what she thought god would want for her because she didn't see anything that she was doing wrong. She had fallen in love, she was going to go have a family with Isaac, where Nick wasn't going to give her that, and she's been raised to have children, so for her having children with Isaac wasn't wrong for her. I understood Eden's choice, but I was very upset with her.
Moss wasn't the only A-lister Sweeney worked with this year. As a featured guest star on Sharp Objects, she spent all her time on the set one-on-one with Amy Adams. Sweeney's word for Adams? "Amazing!"
She is incredible, I've always looked up to her, ever since I was little when she was in Enchanted, so I was trying not to be starstruck working with her. She really just takes you under her wing when you're working with her. She was the same as Elizabeth Moss, she was involved with the show, so being able to see a woman work so hard on-screen and off-screen with Jean-Marc Vallee, and then she's also a mother on top of that. I've always wanted to be like that.
Sweeney's next project is working with Zendaya in Euphoria, which she describes as "a very gritty raw TV show about teens dealing with sex, drugs, relationships. A very real look at growing up." Fans look forward to her adding it to her growing canon of amazing performances.