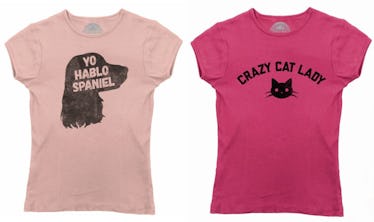 These Doggone Cute T-Shirts Support Animal Cruelty Prevention, So Time To Stock Pup
Along with being the first full month of spring, April is notable for another very important reason, especially if you're the owner of a fuzzy friend. It's Animal Cruelty Prevention Month, as designated by the American Society for the Prevention of Cruelty to Animals, and as an ex-farm girl and obsessive dog lover, it's something that is close to my heart. As explained on the ASPCA's website, "Every year, we ask supporters to celebrate this month by helping us raise awareness about important issues facing animals—and we hope that you'll join in!"
This year, one supporter in particular, a clothing brand, caught our attention for their efforts to help support the ASPCA's mission. Boredwalk, a female artist-owned t-shirt company, will be sending $1 to the Humane Society of the United States for every animal shirt sold during the month of April, meaning countless rescue animals will benefit from their generosity. If you visit the retailer's site, you'll see that they sell 26 pages worth of animal products so yes, it's a pretty big deal.
"The Humane Society provides training and services to local shelters and rescue groups, supports spay/neuter and adoption initiatives, and advocates for animals through public policy, corporate reforms and major campaigns to confront national and global cruelties," Boredwalk explained in a statement.
To sweeten their involvement even further, Boredwalk designs and prints all of their t-shirts in their LA studio using eco-friendly water-based inks, so you'll not only be supporting animals and a female-fueled business, but ethical shopping, as well. What could be better? I perused Boredwalk's animal-printed offerings (all 26 pages of them!) in order to help expedite your selection process and have included my favorite tees below. It's newe been cooler to shop for good.
City Pride
Rep your LA pride with this galaxy-filled bear tee. It, of course, mimics the Cali flag and has a design that's truly stellar. At $25, it's cheaper than most other city merchandise, plus it'll benefit a good cause.
Shape Shifter
I love a comfy crewneck sweatshirt and this pixelated fox version is right up my alley. I love the bright, colorful design and the fact that it would pair excellently with boyfriend jeans and a pair of black booties.
Thinking Pink
This tank combines '80s cool with Cali dreaming flawlessly thanks to its bright geometric design and palm tree motifs. And when it comes to birds, there isn't a more beautiful type than the flamingo, imho. I'd wear this to every music festival ever paired with a pair of pink sunnies and white sneakers.
The Good Witch
Anything with a slightly witchy vibe is something I am into. This cat print sweatshirt is gothic cool at its finest and would look awesome paired with a metallic silver skirt. Pure sartorial magic.
Pussy Power
Wear your love for your feline friends loud and proud with this "Crazy Cat Lady" tee! Although I am hands down more of a dog person, this tee looks so soft and has such a cool, graphic design that I could be convinced to purchase it.
Negative Energy
Again, I'm into stuff that reads slightly creepy and weird so needless to say, this shirt has me hooked. I love its wordplay and tiny skulls. I'd pair it with black skinnies, moto boots, and a black leather jacket for a biker babe meets downtown manhattan look.
Puppy Love
Nerdy? Very. Awesome? Absolutely. So long as they're well-designed, I am a sucker for punny graphic tees. This one featuring the silhouette of a Spaniel is perfectly minimalistic and super wearable. Woof!