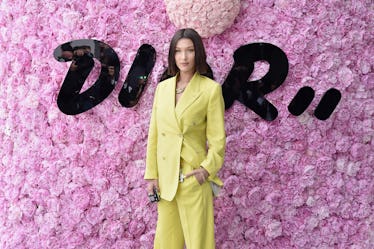 These Breezy Summer Suits Will Make You Feel Like A Total Girlboss In & Out Of The Office
Jacopo Raule/Getty Images Entertainment/Getty Images
I've never worked in an office with a dress code that required a button-up shirt, pencil skirt, slacks, a blazer, or the like. Working in fashion, my sartorial choices have been pretty unregulated by my past employers. But seeing as summer 2018 trends include bright and breezy suits that are perfect for warm weather weekdays and weekends alike, I just might need to add an office-inspired look into my everyday wardrobe.
Just this weekend, Bella Hadid made waves at Paris Men's Fashion Week when she arrived to the Dior Homme show in a sunny yellow pantsuit and sneakers. Slinky, relaxed in fit, and in a playful hue, the suit didn't feel stuffy or overly professional and was just one in a lineup of matching two-pieces that street style photographers captured over the weekend. Indeed, summer-perfect suits—those in vivid hues, bright prints, and with playful embellishments—with sneakers have been a favorite of stylists, models, and editors as of late.
While I am partial to the relaxed trouser and jacket combo (I like the way shapeless blazers fall on my frame and will never say to ultra comfy pants), there are endless silhouette options out there to choose from based on your style preferences. Shorts, cropped pants, fitted blazers — nothing is off-limits, and if you want to make sure your suit fits you like a literal glove I'd recommend checking out custom suiting options.
Check out some of the most fun and versatile suits on the market right now below. Whether you choose to pair them with sneakers or something more professional is up to you. Either way, you'll look like a total boss babe.
Green With Envy
This suit has it all, from a loose, relaxed fit and cropped legs to a bright kelly green shade. It would look perfect paired with sneakers and a white bralette for a casual brunch with friends or with white sandals and earrings like above for a chilled office environment. Power suit, indeed.
Icon Outfit
Do you remember that iconic photo of Naomi Campbell and Kate Moss in the '90s wherein Campbell is wearing the most killer blue plaid look ever? This is the modern day version of it, just less silkier and more wearable. I love the buttons and belt detailing on the skirt and the blinding shade of cobalt it centers on. This is a suit you could transition from the office to the bar seamlessly.
Baby Blue
The super light and airy hue of this suit alone sold me on including it on this list, but when I saw its classic tailored fit and 100% cotton make I knew it would be a knockout.
Short Order
Another option for those of you looking for something uber casual and breezy, this shorts suit boasts a light material and classic pinstripe pattern. The shorts are long enough to still be appropriate in many office settings, while their tie waist makes them not to be taken too seriously.
Pepto Perfect
This deep shade of pink, which mirrors Pepto Bismol to a T, is my favorite variation of the rosy hue. And in suit form? I love it even more. While the pants to this suit are currently unavailable, the blazer is so good that I had to include it on its own thanks to the black button details and notched shawl collar. This is a jacket you can wear 100 ways and still never get bored.
Optical Illusion
Stripes on stripes on stripes! If you're looking to make a huge statement but aren't one for candy colored hues, this eye full of a suit might be for you. As shown above, it looks stellar with any type of white footwear and a slicked back bun. Perfect for the office and beyond.