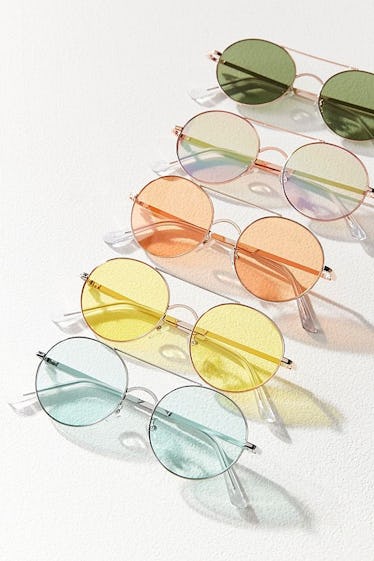 Summer's Trendiest Sunnies Under $25, Because You'll Want Four Pairs
If there is one accessory that is universally loved and can instantly take any outfit from drab to rad, it's a pair of cool sunnies. The best part? You don't have to use half a paycheck to get a really good pair. There are so many summer 2018 sunglasses under $25 to choose from that are legitimately amazing that you might as well pick out two (or five) pairs to stock your closet and up your style with. Because let's be real, you'll probably lose one or two pairs of them at a festival anyways (RIP, white-rimmed cat eyes that I bought one month ago!) and you can never have too many styles of shades on hand.
If I had to narrow down my sunglasses to three main styles I think it would kill me. But on my deathbed, I'd probably choose a classic pair of circular gold wire-rimmed shades a la '90s, a pair of edgy cat eye shades, and a pair with colored lenses (preferably red). Those would get me through pretty much any occasion, but I have tons of friends who are partial to aviators, Wayfarer-style shades, and rectangular frames.
So in order to make sure every type of optical preference is satisfied, I picked out 10 of the coolest affordable shades in an array of styles to choose from and no, I didn't already buy two of them.
Lost My Marbles
These look expensive AF, but thanks to the wonderful thing that is Nordstrom Rack, you get them at a major discount. The marbled frame is super unique and its square shape will definitely turn heads.
Miami Dreams
Whether it makes you think of Floridian flamingos or Pepto Bismol, the color of these glasses is awesomely impressionable. I love the squared frames and contrasting lenses.
The Fade Effect
These look about 10 times more expensive than they actually are. The ombré lenses, gold rims, and geometric shape — it's all so good and so '70s.
The Matrix 2.0
If Orpheus and Trinity and Neo were to enter My Little Pony's world, I think these would be their tiny sunnies of choice. Seeing as mini shades have been seen on everyone from Kaia Gerber to Selena Gomez as of late, the style should definitely be on your roster.
Sunny Sunnies
Yellow is my other color of choice when it comes to tinted lenses. This pair of shades features squared aviator frames in a matching gold hue. Wear them with a floral boho dress for an especially cool look.
Seeing Spots
I love a good tortoise frame, especially in an exaggerated size and shape. With an all-back outfit, red lips, gold hoops, and a slicked back low bun, these would make you look downtown Manhattan in the best way.
Dream State
When I see these they just make me thing of hazy summer days spent somewhere tropical, preferably with a margarita in hand. The bright, contrasting colors are everything.
I'm Wired
I am obsessed with these. Their small oval lenses and intricately designed wire frames allow them to be delicate but still edgy. They're a pair that you could throw on with just about everything.
Purple People Peepers
Another pair of tinted aviators, but this time in a more rounded shape and lilac shade.
Retro Babe
These look exactly like the aforementioned pair of white cat eye sunnies that I lost mere weeks ago at Lollapalloza in Chile, so I snapped up a replacement pair as soon as I came across them. They, too, can be paired with anything (they make jeans and a simple white T-shirt look like the coolest outfit on earth) and have this cool vintage vibe.