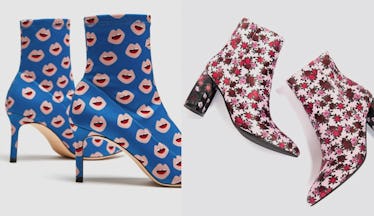 Forget Sandals — You're About To See These Boot Trends Everywhere This Summer
Zara/NAKD
It's always exciting when warm weather rolls around and you can finally pull out your favorite sandals that have been collecting dust over the cold winter months. It's insane how much you can miss a strappy shoe or two! But summer 2018 boot trends are so, so cute that this year I kind of want to keep on rocking the close-toed footwear look, no matter how hot it might get. Fashion is pain (read: discomfort), right?
The one boot that I guarantee you will see absolutely everywhere is the cowboy boot. American designers and beyond have been on a major Americana design inspiration binge, so prepare to see a lot of pointy-toed, intricately stitched footwear options on shelves. I grew up on a small farm and must say I find it hilarious that the shoes I used to wear to muck stalls in are now walking high fashion runways. Along with cowboy boots, there's a plethora of other styles that will also be overtaking the floorspace of your favorite retailers. From sock boots and variations of the classic hiking style to brightly colored iterations and more, the options are anything but boring. Your boot game is going to slay this summer—here are a few of my favorite picks.
Walking on Clouds
White boots are the ultimate chameleon of a shoe. They don't just go with everything, but rather elevate everything. Pair them with a monochromatic dress for a cool color-blocked effect or with a pair of jeans and a matching white tee. You'll look super cool and trendy either way.
To Scale
Everything about these boots rocks, from their faux snakeskin texture to their dusty pink hue. The rounded toe and stacked heel give them a bit of a mod vibe and I could totally see myself wearing them with a cute shift dress. They're undeniably summery (I can't imagine trying to wear these on slushy winter days) and have a cool sheen to them. What's not to love?
Kiss My Feet
A pair of sock boots are sure to make you smile. Featuring tiny mouth motifs over a bright blue background, they're super playful and will definitely turn heads. With these on, no other accessories are needed.
Out West
Helloooo childhood footwear! I love this pair of cowboy boots for its slight heel and cool stitch detailing. You could pair them with a long floral dress for a cool boho look, or with a mini skirt if you want to go cowgirl chic. The zip-up side will make them exponentially easier to get on than regular pull-on styles.
Take A Hike
If you need even more of a reason to get out and enjoy the great outdoors this summer, this pair of powder pink hiking boots is it. With a cool suede finish and thick tread, they're perfect for a day out on the trails. But if you just think they look cool and prefer to wear them as a fashion statement, that's rad, too.
Red Hot
A pair of cherry red boots will never go out of style. This style, which features a pointed toe and sharply angled heel, reminds me of something a bad*ss comic superheroine would wear, which, sold. Pair them with anything and a red lip and you'll be looking on fire from head to toe.
Petal Pusher
Why not wear a garden on your feet? These booties are blooming with miniature roses and boast a cool contrasting heel.
In The Nude
As simple as these might seem, I am so into them. Their nude tone makes them easy to pair with literally everything, while their patent sheen adds a subtle detail.