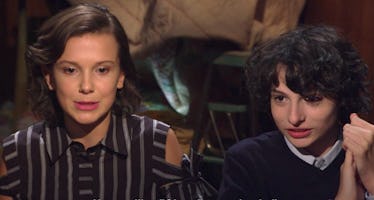 Eleven & Mike From 'Stranger Things' Open Up About That Season 2 Kiss Scene & It's Everything
Netflix
*WARNING: This post contains spoilers for Stranger Things Season 2.* OK, guys, it's time to get excited because, after what has felt like decades, Stranger Things Season 2 is finally available for streaming on Netflix. The only thing that sucks is, in typical Stranger Things fashion, we only have nine episodes, which means only nine hours of bingeing before we have to wait another year or so for Season 3. Lucky for us, though, this time around a new show, Beyond Stranger Things, is giving us seven episodes worth of behind-the-scenes scoop on the entire season, and it starts with one of Season 2's biggest moments: Mike and Eleven's kiss.
Beyond Stranger Things, also available on Netflix, is a half-hour followup to Stranger Things 2 where the producers, actors, and writers gather round and give us a sneak peek into the behind-the-scenes details that went into putting Season 2 together. Of course, there's plenty of juicy information about casting, plot development, and filming that Stranger Things diehards will appreciate, but one anecdote in the first episode of Beyond Stranger Things takes the cake, and that's the story of how Mike and Eleven filmed their finale episode kiss scene that left us all saying "Awwww!"
In the first episode of Beyond Stranger Things, host Jim Rash sits down with Millie Bobby Brown, Finn Wolfhard, Shawn Levy, and the Duffer brothers to discuss the characters introduced in Season 2 and the season's theme. The group starts by talking about Mike and Eleven's reunion in Episode 8, and, before long, Jim brings up the "romantic side" of their relationship, aka their big kiss at the Snow Ball.
The host asks Millie and Finn how shooting that scene was for them and, after everyone at the table laughs, they recall how stressful and intense the kissing scenes were for all of the actors. They start by talking about Max and Lucas' kiss (more on that in a minute), but eventually move to discussing their own on-camera smooch.
Despite this being their second kiss on Stranger Things (they also locked lips in Season 1), these two still felt the awkwardness of it. The actors recall how awful it was when all the extras started clapping for them after they finished, but the truly hilarious part of it all is when Millie reveals what happened just before the kiss. In between bouts of laughter, the actress says Finn, "was like a ventriloquist," and that he said "OK, I'm comin' in" to her through his teeth. Ahh, young romance.
Finn adds to Millie's story by saying, "If you look closely, I'm pretty sure you can see me talking to her," and he's not wrong... you literally can.
Finn and Millie aren't the only ones who had to deal with awkward on-screen kiss pressure this season. Indeed, Sadie Sink (Max) and Caleb McLaughlin (Lucas) had their own stresses going into their kiss, especially since they didn't know ahead of time that their characters were going to smooch at the Snow Ball. In the second episode of Beyond Stranger Things, Sadie tells Josh and Stranger Things' fans,
It was not written in the script, the kiss wasn't written in the script. I get there the first day of filming the Snow Ball, me and Noah [Schnapp] are walking in, seeing the decorations and stuff, and – I think it was you Ross – and you said, 'Oh Sadie, are you ready for the kiss?' And I'm like 'What? No, that's not in the script, that's not happening.' And so the whole day I was like stressed out.
Check out the entire Gen Why series and other videos on Facebook and the Bustle app across Apple TV, Roku, and Amazon Fire TV.