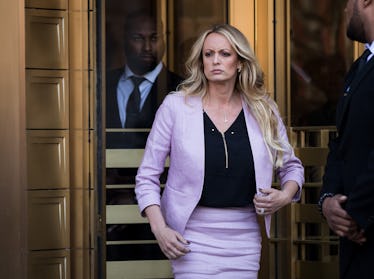 Stormy Daniels Got Real About The Consequences Of Accusing Powerful Men
Drew Angerer/Getty Images News/Getty Images
The recent few weeks have sparked tons of conversations surrounding women's rights and sexual misconduct allegations. Even though some may hope these discussions come to an end, Stormy Daniels' comment about the consequences of accusing powerful men sheds some much needed light on the whole situation. Good luck silencing these powerful women.
On Sunday, Oct. 14, adult film actress Stormy Daniels sat down with The Cut as a part of their "Women and Power" issue. During the interview, Daniels talked about her life after coming forward about her and Trump's alleged 2006 affair, which Trump denies. Elite Daily also reached out to the White House for comment about the alleged affair, but did not hear back. According to Daniels, the negative press and hurtful reaction from the public was hard to deal with, and she eventually felt "powerless." She said,
Everyone thought that I was doing it for attention, or I was lying. I didn't care if they knew I slept with somebody, but I don't want to be considered a liar or a kiss-and-tell. And that's exactly what did happen. I got blamed for it. The people who believed it thought I leaked the story to extort the president. The other people thought I was just a flat-out liar and gold digger... It was all really negative press and just a bunch of sh*t. People were too afraid to come out and support me.
Although Daniels' alleged relationship with Trump was consensual, allegations of an affair clearly had major blowback. Daniels also discussed the impact the attention had on her mental health, particularly because of the pressure she felt after coming forward about the alleged affair. She said,
I wanted to set the record straight and not be bullied. I really just wanted to save my own ass. Now I'm in charge of saving the world... It was very hard for me. I would have these days where I would come offstage and just want to cry... And about every two or three weeks, I would have a breakdown. I'd be like, What if I let everybody down? They really think that I'm going to take the president down. That is f**king insane to me. I was like, I don't want this, I don't want this.
In the piece, Daniels emphasizes that she doesn't consider herself a part of the #MeToo movement mainly because she says her and Trump's encounter was allegedly consensual. She also says that she doesn't identify as a feminist. However, her comment about the backlash she received coming forward about the alleged affair is yet another example of the history of horrible treatment women often receive when they allege bad behavior, legal or not, by men in power.
Just take 1998 as an example, when it was revealed that President Bill Clinton and his intern Monica Lewinsky had an affair during his presidency. Naturally, the news sparked a huge reaction among the public, but now a decade later, many people are starting to note the unfair treatment Lewinsky experienced compared to Clinton. After the affair became public news, Lewinsky had to endure jokes about her appearance, professionalism, and sexuality. In addition, the young woman also received death threats and was made a public punchline over the encounter with Clinton. But while it takes two individuals to be involved in an affair, compared to Lewinsky, President Clinton received far less backlash from the public. Though he was impeached for his role in the affair, he was not removed from office and ended up finishing out his term. In fact, according to Gallup, the beginning of Clinton's impeachment trial in December 1998 also saw his highest approval rating of his presidency, at 73 percent.
During her March 2015 TED Talk in Vancouver, Canada, Lewinsky put the experience in three simple sentences.
"In 1998, I lost my reputation and my dignity," Lewinsky said. "I lost almost everything. And I almost lost my life."
Sadly, not much has changed even a decade later.
On Thursday, Sept. 27, California professor Dr. Christine Blasey Ford stood in front of the Senate Judiciary Committee to testify that then-Supreme Court nominee Brett Kavanaugh had allegedly sexually assaulted her back in high school, which Kavanaugh has denied. Elite Daily also reached out to the White House for comment about Ford's allegations at the time, but did not hear back.
During her testimony, Ford not only discussed the alleged experience with Kavanaugh, but also all the hate she dealt with after coming forward. According to Ford, she received "constant harassment" through death threats and extreme name calling, which became so extreme that she and her family were forced to leave their home. According to Jezebel, the professor was still receiving death threats from the public and had yet to return home as of Oct. 8.
During the testimony, Ford said,
My family and I have been the target of constant harassment and death threats. I have been called the most vile and hateful names imaginable. Since September 16, my family and I have been living in various secure locales, with guards.
As Donald Trump remains the president, Bill Clinton is still fondly remembered, and Brett Kavanaugh enjoys his new title as Supreme Court Justice, these women are still picking their lives up from all the hate they've had to endure.
Let's hope it doesn't take another decade for justice and gender equality to finally be achieved.