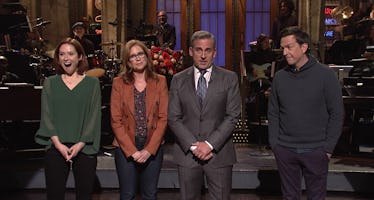 This Mini 'The Office' Reunion With Steve Carell On 'SNL' Has Fans Wanting A Reboot
YouTube/Saturday Night Live
Dunderheads were in for some serious nostalgia on Saturday, Nov. 17, as Steve Carell returned for the third time to helm Saturday Night Live. While the comedian recently shut down the idea of a reboot of The Office because he wasn't sure if it would "fly today" (Um, what?), Dunder Mifflin turned out to convince him of just how wrong he is. There were plenty of hints, and Steve Carell's The Office monologue on SNL has fans now wondering if a potential reboot could be happening, especially after that dramatic tease at the end. Things might not be official (yet), but a fandom can dream.
It's been five years since we said goodbye to Michael Scott, Pam Beesly, Erin Hannon, and Andy Bernard, and they gave audience members a quick update on their lives since the show last aired on Saturday night. After Carell talked about his career in the movies, he turned things over to the audience for a question and answer section, and it was clear that a reunion of The Office was on everyone's mind.
When one crowd member point-blank asked him, "Will you ever reboot The Office?" Carell proved he needed some convincing. "It was a great experience, I love all of those people but I just don't think it's the best idea," he said, echoing his sentiments from an October interview with Esquire. "I don't think it would be as good this time around."
Obviously Carell's fellow cast members didn't agree with this blasphemy, as they took turns as the mic to convince him otherwise.
Ellie Kemper, who played Erin, told him, "People would really love to see an Office reboot... Especially because I need that money. Let's get that money, Steve," while Ed Helms (aka Andy) pointed out all the fun he was missing out on by taking on more serious roles.
"I just don't think you understand how much money we're talking about," he added. "Like you wouldn't have to do those sad movies anymore."
Jenna Fischer even chimed in to remind Carell of the last words Pam Beesly whispered to Michael Scott, which apparently were "Steve, don't be a d*ck, do the reboot."
The icing on the cake was Carell's own family chiming in with their support. His wife Nancy Carell and his two children Elisabeth and John (who appeared to be bored by his SNL appearance) told him, "We think you should probably do the show…We don't really need you to hang around anymore."
Carell then invited his co-stars up on stage and I was so convinced that an announcement of The Office II was imminent, especially when he asked the crowd, "Feels like everyone wants this to happen. Do you guys want to see an Office reboot?" TBH, is there even an answer to that other than "Yes, 100 percent"?
Unfortunately, it looked like the comedian had been low-key trolling our hopes and dreams, because he concluded, "I am proud to announce officially... that we have a great show tonight. Ella Mai is here and we will be right back."
While it looks like nothing's official (at least for now), fans took to Twitter to show that the Dunerhead fandom is very much alive and hope is not lost.
Yep, that pretty much sums up my emotions. There's no way that Carell can do us dirty like that then not give us a reboot, right? Well, judging from Twitter, the hope and the hype are very much alive and well for a return to Dunder Mifflin, and I hope Carell takes note.