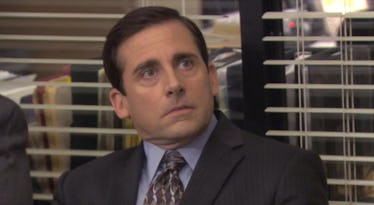 Sorry Dunder Mifflinites, Steve Carell Has A Disappointing Message For 'The Office' Fans
NBC
NBC has yet to validate the persistent rumors about rebooting its hit comedy series The Office, but that certainly hasn't stopped former cast members from addressing the possibility in interviews. While the majority of actors from The Office have expressed interest in reuniting for another series, the show's leading man isn't the biggest fan of the idea. He's shut down this discussion before, but Steve Carell's quotes about a The Office reboot are super disappointing.
While you're more likely to catch him in a dramatic tearjerker now rather than an uproarious comedy, Carell has been open about his thoughts on a revival of The Office. Last year, he shared that he didn't think reviving the comedy was a good idea, focusing on how reboots are usually disappointments no matter how successful they are. Now in the midst of promoting yet another serious role as the father of a drug addict in Beautiful Boy, Carell has more insight into why we may not ever see the show return. Explaining why he thinks the show wouldn't work today, Carell told Esquire:
The climate's different. I mean, the whole idea of that character, Michael Scott, so much of it was predicated on inappropriate behavior... A lot of what is depicted on that show is completely wrong-minded... But I just don't know how that would fly now. There's a very high awareness of offensive things today—which is good, for sure. But at the same time, when you take a character like that too literally, it doesn't really work.
The cringe-inducing humor of Dunder Mifflin boss Michael Scott was a trademark of the series, which ran on NBC from 2005 to 2013. As prone as fans are to watching the series for the umpteenth time on Netflix, recent re-watches have also shown longtime viewers how poorly some episodes of The Office have aged. Certain early episodes are particularly problematic in today's context ("Diversity Day," anyone?). Although the series ended on a sentimental note, Carell's point about its appropriateness is definitely accurate.
Earlier this year, NBC Entertainment chairman Bob Greenblatt danced around the likelihood of revisiting The Office. According to The Hollywood Reporter, the full original cast wouldn't appear on a reboot series. While discussing several older shows and their chances of being revived, Greenblatt said, "We can't just reboot everything... The actors want a lot more money than we're willing to pay them."
While several of the show's secondary actors are open to a new series, Carell isn't the only one opposed to stepping into old characters' shoes. John Krasinski, who fans first met as sales rep Jim Halpert, favors the idea of a Christmas special rather than a full Office reunion. Of course, even though both men might want to stay away from such precious material, that probably doesn't mean they wear their Dunder Mifflinite status any less proudly.
If you're still craving some kind of nod to The Office from Carell, his movie Beautiful Boy has an unexpected reunion of co-stars. In the drama, Amy Ryan, who played Michael's eventual wife Holly, stars alongside Carell as his ex-wife. The movie's premise is bleak, but if knowing that Michael and Holly team together to help their struggling son makes you feel better, so be it. See, who needs a full reboot of The Office?
Beautiful Boy is currently in theaters.