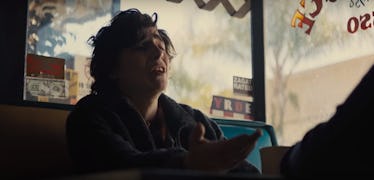 The New 'Beautiful Boy' Trailer With Timothée Chalamet Will Rip Your Heart Out
Amazon Studios
Whether he captured your heart as a brooding bad boy in Lady Bird or a romantic musical prodigy in Call Me by Your Name, Timothée Chalamet is undoubtedly a rising star among Hollywood's youngest elite. The 22-year-old Oscar nominee is already generating more awards buzz with his role in the upcoming Beautiful Boy, which chronicles a teen's struggles with meth addiction through the eyes of his father. Also starring Steve Carell, the new Beautiful Boy trailer with Timothée Chalamet will definitely have you reaching for your tissues.
Although Amazon Studios released the film's first emotional trailer in June, the latest look at the movie offers insight into plot beyond the barebones summary of Chalamet's character's drug use straining his relationship with his dad (Carell). Chalamet's meth addict Nic struggles with his father David's belief that he is not the son he's always known, while David and the rest of his family try to reel Nic in from the possibility of a deadly breaking point. Amy Ryan and Maura Tierney also appear as Nic's mother and stepmom, but David's love for his son and Nic's desire to rectify any hurt he has caused are the clear highlights of the heartfelt tearjerker.
Showing several actors playing Nic throughout his life, the Beautiful Boy trailer explores the contrast between Nic and David during both sunny and bleak moments in their lives. Nic struggles to become sober, but he strives to reach that goal to make his family proud. Displaying the same loving devotion he has shown in his more dramatic roles, Carell already has me a little teary-eyed. However, judging by some of his confrontations with Chalamet, don't count out the younger star's ability to inspire tears either.
The movie is based on the memoirs of the real David and Nic Sheff, who first hit the public eye in 2005 when journalist David Sheff wrote a New York Times Magazine piece about Nic overcoming his crystal meth addiction. He shared more about his experience in his 2009 bestselling book Beautiful Boy: A Father's Journey Through His Son's Addiction, while his son adapted his own journals to detail his struggles in Tweak: Growing Up on Methamphetamines.
The younger Sheff, now in his late 30s and working as a producer on the Netflix series 13 Reasons Why, has been in contact with Chalamet throughout the making of the film and its early promotion process. In an interview at the Toronto International Film Festival, Chalamet divulged that playing a real person initially made him nervous, but meeting Sheff and developing a lighthearted bond with him changed his perspective. Maybe we can even expect these two to hit the red carpet together at some award shows next year.
Also heading down a much darker direction than what his previous roles tackled, Chalamet recently addressed the Sheffs allowing filmmakers to transform their story into a cinematic venture. He told IndieWire:
[The Sheffs] let go of the reins and they allowed for all of these strangers, essentially, to take this story and to interpret it...My film knowledge isn't excellent, and I know I haven't seen every movie that deals with the subject matter and the canon, and yet I find there's like these two poles, one that really leans into the tragedy of these kinds of situations and one that makes raw [the situation]. I feel like that's what we were trying to do, is walk a fine line [between them].
Even if audience members are without a personal connection to Beautiful Boy's subject matter, it looks like they're in for a sobfest thanks to Carell and Chalamet's performances. Beautiful Boy is in theaters on Oct. 12.