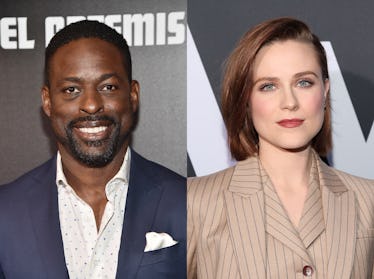 Sterling K. Brown & Evan Rachel Wood May Be In 'Frozen 2' & I Can't Let It Go
Theo Wargo/Getty Images Entertainment/Getty Images & Jesse Grant/Getty Images Entertainment/Getty Images
It'd be hard to upgrade the pure Disney magic of 2013's Frozen for its upcoming sequel, but the secret to finding more success in a new story could be to find even more A-list vocal talent for the movie. The Frozen sequel isn't out for about another year and a half, but Sterling K. Brown and Evan Rachel Wood may be in Frozen 2, and Disney fans certainly won't let this go.
Variety reports that the two stars are in talks to join the 2019 sequel, which will welcome back a majority of the original film's cast and crew. Idina Menzel, Kristen Bell, Josh Gad, and Jonathan Groff are confirmed to reprise their roles as Elsa, Anna, Olaf, and Kristoff, while Jennifer Lee and Chris Buck will return to direct the sequel. Lee, who wrote the first screenplay and received a Tony nomination for writing the book of the Broadway musical Frozen, is also writing the new script. Frozen songwriters Kristen Anderson-Lopez and Robert Lopez have also recorded at least one song for the sequel with Bell. And Brown and Wood might join this insanely talented group? Disney treats us well.
The report comes soon after Brown and Wood both received Emmy nominations last week. Wood was recognized for her work in Westworld in the Lead Actress in a Drama category, while Brown scooped up two nominations for his leading role in This Is Us and a guest stint on Brooklyn Nine-Nine. Considering the amount of Tony nominees and other acclaimed stars among the Frozen cast, I'm sure Brown and Wood would fit in well with this group.
Story details for Frozen 2 remain under wraps, but the closest hint we have for the movie's progress comes from Kristen Bell, who appeared on The Ellen DeGeneres Show in April and revealed she had recorded her part for the film. In the interview, Bell said:
I have recorded the movie. There will be edits before it's finished but I know the songs, I know the story, it's very good — I can't say much more than that or I'll get in trouble!... [I'm] excited to be in it and that creative team is also just so amazing, so I'm excited to get back in a room with them and play around.
Meanwhile, Josh Gad, whose natural voice is basically indistinguishable from that of Olaf the snowman, shared a photo on Instagram of himself with Buck and Lee at the start of Frozen 2 recording sessions in September 2017. Alongside the photo, he penned a loving tribute to the sequel's story, hinting that it would be something special and saying:
Chris Buck, Jennifer Lee, Peter Del Vecho, Kristen Anderson-Lopez and Bobby Lopez along with John Lasseter and the amazing people at @disneyanimation have created a story that carries on the incredible legacy of the original #Frozen and continues to build and expand on the characters and themes in new and exciting ways. Unfortunately, that's all I can tell you right now. But, rest assured #Frozen2 is on the way and damn is it going to be special.
Seeing as we have no clue where the new Frozen story will take us, it's hard to tell what kind of characters Brown and Wood would play, but who says that our guesses have to be far-fetched? Can Brown play a snowman who rivals Olaf's unofficial spot as court jester? Is Wood a secret, long-lost cousin of Elsa and Anna with seedy intentions behind her surprise visit? Or has Wood been called up to help Disney answer fans' pleads to give Elsa a girlfriend? We'll have to wait and see if these casting rumors are confirmed before speculating more about potential characters.
Frozen 2 is in theaters on Nov. 27, 2019.