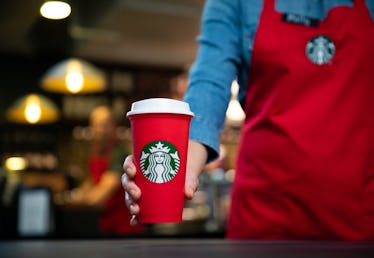 You Can Get Discounted Starbucks Drinks During The Holidays By Using This Red Cup
If I told you that it's possible to get discounted Starbucks drinks this fall and winter, would you believe me? Well, you should — because it's completely doable. You can thank Starbucks' reusable red cup deal for that. On Nov. 1, the company announced a handful of festive cups for the holiday season — and amongst the selection is a reusable option that customers can fill up on the cheap. Sure, the cup doesn't boast any Christmasy designs or floral patterns — but it's helping customers take a step toward sustainability. Between discounted drinks and a healthier environment, the holidays are already looking merry and bright.
Now, you're probably wondering how to get a reusable cup and land a cheaper Starbucks beverage. Thankfully, the process is simple. According to a press release, all you need to do is visit a Starbucks store on Nov. 2, 2018, and order a holiday drink (I'm looking at you, Peppermint Mocha). Then, your barista will give you a limited-edition reusable cup on the house with your order. After you get your cup, take it home and protect it. You'll need to bring it back to Starbucks with you the following day for your discounted beverage. (Seriously, guys, don't lose it.)
Beginning on Nov. 3 after 2 p.m. local time, you can bring your reusable cup back to participating Starbucks locations in the United States and Canada. In order to land a cheaper drink, you must order a 16-ounce handcrafted holiday beverage. By doing so, you'll get a whopping 50 cents off of your selection. In the world of coffee, 50 cents is huge.
In order to fully take advantage of the deal, you'll have to keep a few things in mind. Most importantly, reusable red cups will only be given out on Nov. 2 while supplies last. In other words, don't waste too much time getting to the 'Bucks in the morning. If you do land a reusable red cup, you should know that you'll only have until Jan. 7, 2018, to take advantage of the 50-cent discount. If you're a true Starbucks enthusiast, though, I'm sure you'll be making quite a few coffee pitstops between now and then.
Those of you who miss out on the reusable red cup don't have to panic. As always, Starbucks announced a handful of brand new holiday cups that will become available in stores on Nov. 2. The nostalgic vintage cup designs include Stripes, Flora, Espresso Houndstooth, and Stargyle. Unlike the reusable red cup, the festive selections boast Christmassy colors and comforting patterns that'll keep you cozy all winter long.
Now that you know about the cups, you're probably wondering which holiday drinks you should fill 'em up with. Thankfully, Starbucks' seasonal beverages will return to the menu on Nov. 2. The returning holiday sips include Peppermint Mocha, Caramel Brulée Latte, Toasted White Chocolate Mocha, Gingerbread Latte, Chestnut Praline Latte, and the Eggnog Latte. Whether you're drinking your favorite option from a red reusable cup or a festive floral one, you're sure to enjoy it.