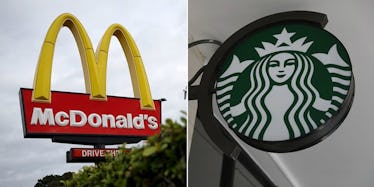 Starbucks & McDonald's Joined Forces For A Reason You'd Never Expect
Justin Sullivan/Joe Raedle/Getty Images News/Getty Images
Sometimes, it's easy to assume that fast-food businesses feel the need to compete with one another. When they aren't starting hilarious feuds with each other on Twitter, they're sending passive-aggressive messages back and forth via store signs. (It's all in good fun, though.) Amidst the restaurant wars happening on the regular, there are two companies that decided to team up for an admirable reason. As of Tuesday, July 17, Starbucks and McDonald's are working together to create a recyclable and/or compostable cup for the future, and it's an big step toward a sustainability. Once you learn more about their initiative, you'll be so excited about Starbucks' and McDonald's recyclable cup mission.
Starbucks announced the news about McDonald's joining them on their mission for environmentally-friendly cups in a press release on July 17. This comes as no surprise, since McDonalds and Starbucks contribute a combined four percent of the 600 million cups that are distributed each year, per Fast Company. In effort to make a difference, McDonald's teamed up with Starbucks and became an additional founding member of The NextGen Cup Consortium and Challenge. The Challenge — which is convened by Closed Loop Partners — was launched in 2018, and hopes to bring businesses together to help create and commercialize the next generation of recyclable cups.
So, how much is McDonald's contributing to the cause, anyway? Well, they're definitely not being cheap. According to Starbucks, the Big Mac haven partnered with Closed Loop Partners to contribute a whopping $5 million to The NextGen Cup Consortium and Challenge, bringing the total funding to $10 million. Seeing that The Challenge is coming up quickly, this is extremely exciting news for all parties involved.
According to Starbucks, the The NextGen Cup Consortium and Challenge will officially kick off in September. It will encourage recyclers, industry experts, innovators, and entrepreneurs to brainstorm and submit their ideas about sustainable cups for the future. If wish to become a part of the revolution, start thinking about your cup idea. McDonald's is already on board.
Marion Gross, the Senior Vice President and Chief Supply Chain Officer of McDonald's USA, spoke about the company's involvement in a press release. She said,
McDonald's is committed to using our scale for good to make positive changes that impact our planet and the communities we serve. We are excited to join Starbucks and Closed Loop to help solve this pressing challenge as collaboration is key to finding a scalable, lasting global solution.
Apparently, Starbucks is just as excited as McDonald's to work together on their mission for environmentally-friendly cups. Colleen Chapman, vice president of Global Social Impact focused on sustainability for Starbucks, talked further about their partnership in a press release. She said,
We are proud to come together with industry partners like McDonald's to drive innovative, scalable solutions for cup waste. A better cup will benefit the entire industry and we invite others to join us as we move these efforts forward.
If you're a business owner who plans on joining the initiative to create recyclable and/or compostable cups, then start brainstorming. Those who win will receive $1 million in acceleration funding (based on key milestones) — and up to seven of the awardees will enter an accelerator program for six months to help make their ideas become a reality.
It's time to think green, everyone. Get your pen and paper out, and join McDonald's and Starbucks on their mission to create environmentally-friendly cups.