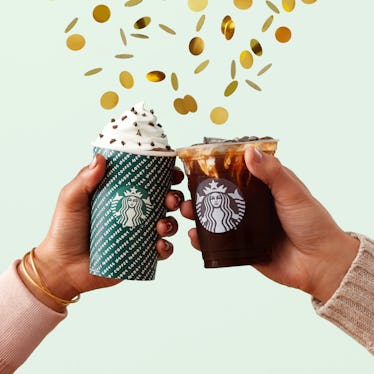 You Can Get A Free Holiday Drink During Starbucks' Pop-Up Parties
Courtesy of Starbucks
As you trudge along during the state of holiday limbo that is the week between Christmas and New Year's, Starbucks is here to give you an extra boost. Starbucks' December Pop-Up Parties will feature coffee giveaways in more than 200 different U.S. stores daily. It's basically like five days of mini happy hours, and there's a good chance your local 'Bucks is getting in on the action.
From Friday, Dec. 27 through New Year's Eve, Tuesday, Dec. 31, Starbucks will host more than 1,000 Pop-Up Parties. What's a Pop-Up Party? In select stores across the country, customers will get a free hot or iced tall handcrafted espresso drink (excluding Starbucks Reserve coffees) from 1 p.m. until 2 p.m. local time. You don't even have to make a purchase to score the free sip. There's a limit of one per customer, and you can choose from sips like the Peppermint Mocha, the Toasted White Chocolate Mocha, or any espresso-based drink that catches your eye.
To see where the parties will take place, keep an eye on StarbucksPopUp.com, which is where you'll see a list of stores participating in the Pop-Up Parties. Since the locations of the giveaways will change daily, you'll want to make sure you don't miss out on a Pop-Up Party near you.
While you wait for the parties to start, you can take advantage of Starbucks' final December Happy Hour on Thursday, Dec. 26. From 2 p.m. until 7 p.m. local time, you can enjoy BOGO handcrafted drinks at all participating Starbucks locations. When you buy a size grande or larger beverage during happy hour, you'll get a drink of equal or lesser value completely free. The deal includes almost everything on the menu, but there are few sips not included in the happy hour deal: hot brewed coffee and tea, ready-to-drink beverages, and Starbucks Reserve beverages. Most of your fave holiday sips are included, so you can score a free one before they leave the menu in January.
With happy hours and Starbucks Pop-Up Parties, you'll have plenty of coffee to keep you going right into 2020.