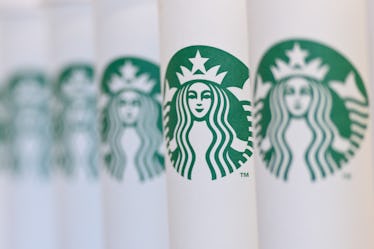 This Drink Is Starbucks' Best Kept Secret & You're Going To Love It
Ben Pruchnie/Getty Images News/Getty Images
Starbucks regulars usually tend to have one or two go-to orders, and mine will forever be a tall soy latte. It's short, sweet, and gets me to the caffeine level that I need. But if you're feeling particularly adventurous, journeying through the ever-elusive Secret Menu is always a good idea. Trust me — Starbucks always has a plethora of amazing secret options (as long as your barista knows how to make your Secret Menu request, that is). So if you're looking to try something new and exciting during your next coffee run, Starbucks' Coconut Lime Refresher is their best kept secret, and there's no doubt in my mind that you should give it a try.
Maybe the monotony of your usual Starbucks orders have you craving major a change — and although straying from the norm can be a little scary, it's totally acceptable. Even though trying new things can be intimidating (especially when it involves your coffee break), you should "dare to be different," as the elementary school motivational posters say. The Coconut Lime Refresher has taken me on a life-changing journey to a beautiful and remote tropical island, and after trying it, there is truly no turning back. After just one sip, I am quite literally dancing the hula, and basking in the glorious sunshine beneath some palm fronds. It's a bold taste of summer — and there's really nothing better than a little bit of warm, sunny skies in your morning to-go cup.
If you're wondering what the Secret Menu drink looks like, check it out below.
Evoking the taste of a piña colada (minus the rum, obviously), the Coconut Lime Refresher reminds me of something I would probably order while chillin' by the pool, or while lounging in the sand... with no SPF required. Since the weather has been so freaking cold lately, the Coconut Lime Refresher is this month's real MVP. So if the cold temps are also getting you down, I definitely recommend ordering one for yourself.
Ordering a Coconut Lime Refresher is beyond simple. According to the Starbucks Secret Menu site, Just order a Cool Lime Refresher and ask for them to replace the usual water base with coconut milk (for that creamy consistency and coconut-y taste that you know you love). Starbucks Secret Menu also recommends removing the lime slices from the Lime Refresher, and blending everything for a more slushy-like consistency. Also, topping your drink off with whip is pretty much mandatory, and adding a little classic syrup never hurt anyone. A little extra sweetness is quite honestly vital. And don't worry about drawing attention with your order, because no one will give you weird looks for ordering it. If they do, they've clearly never enjoyed slurping up the beach before, and that's just sad.
If you're feeling a little on the spooky side — and if tropical isn't really your vibe RN — then definitely make a point to order a Wired Zombie off the Secret Menu. It will absolutely revive your inner goth, and there's no doubt in my mind that it'll cater to all of your spooky needs. If you're ordering a tall, just ask for a Refresher (preferably the Strawberry Açai or Cool Lime flavors), add light lemonade without water, one scoop of matcha green tea powder, and half a pump of Classic syrup. It's hella easy and very tasty. So, definitely make sure to give it a (flavor) shot (I am so punny it kills me).
Starbucks Secret Menu drinks are always a good idea, and the Coconut Lime Refresher is my new beachy fave. Just ask your barista if he or she knows how to make it before you order one!
Check out the entire Gen Why series and other videos on Facebook and the Bustle app across Apple TV, Roku, and Amazon Fire TV.