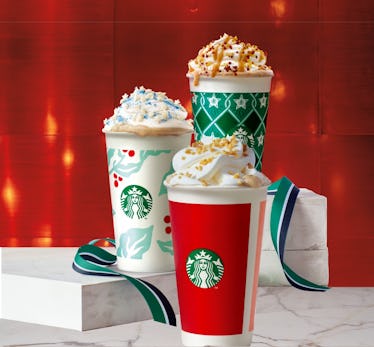 You Can Order A Baked Cheese Latte At China Starbucks For A New Kind Of Holiday Treat
STARBUCKS
According to Starbucks' holiday drink lineup, 'tis the season for festive sips boasting notes of gingerbread, eggnog, peppermint mocha, and, if you happen to live in China, baked cheese. Starbucks China is serving a Snowy Cheese Flavored Holiday Latte, and TBH, I'm almost curious enough about what this tastes like to book a trip before the holidays are over. If you've ever dreamed of sampling a Brie-infused Cappuccino or mixing some cheddar into your flat white, this festive drink is probably for you.
Per Starbucks, the brand new holiday beverage sounds like it's the chain's take on a cheese platter paired with blueberries, crisps, espresso, and yes, baked fromage. According to the description, the Snowy Cheese Flavored Holiday Latte is comprised of "baked cheese flavored sauce blended into classic espresso and topped with light whipped cream, blueberry flavored sprinkles and star-shaped crisps." It's unclear what type of baked cheese will be tantalizing your taste buds this season, but it sounds like you'll be getting a very unique blend of sweet and savory with your brew. From the photos, it looks like the baked cheese sauce is balanced with a generous topping of blueberry sprinkles and whipped cream, which makes me wonder if the flavor is more akin to the sweetness of cheesecake or an actual full-on savory Brie and Camembert spread.
This isn't the first time that Starbucks China has tried its hand at making cheese-flavored lattes a thing, so something tells me that the company probably knows what it's doing with its newest holiday offering. Back in 2015, Starbucks China introduced a cream cheese-flavored syrup to top its Strawberry Cheesecake Frappuccino, and while the words "cheese" and "Frappuccino" shouldn't go in the same sentence IMHO, the unique drink was popular enough that it was also introduced in Australia for a limited time. In other words, this baked cheese-flavored latte might actually be completely delicious, so I'd suggest ordering it if you happen to be in China for the holidays, and then reporting back to the rest of us.
Speaking of holiday sips, Starbucks recently released its most festive drinks of the year, including timeless holiday flavors like chestnut, eggnog, and peppermint. Don't get me wrong, you can never go wrong with a Peppermint Mocha, but my mouth was seriously watering when the coffee company revealed a selection of its holiday drinks around the globe on Tuesday, Nov. 13. Starbucks Japan's Strawberry Christmas cake — featuring a delicious blend of white mocha, strawberry compote, whipped cream, and biscuit — caught my eye, as did the Cranberry White Chocolate Mocha. Available in Latin America, the drink features Starbucks espresso and steamed milk mixed with "luscious white chocolate, then topped with whipped cream, a tart cranberry drizzle and crystallized cranberry sugar."
Other notable offerings at Starbucks' storefronts around the world include a Toffee Nut Crunch Latte and Christmas Dessert Latte inspired by a British Christmas pudding. TBH, my Gingerbread Latte is starting to sound a whole lot less festive right now. Unfortunately, Starbucks patrons who live stateside are "stuck" with the six holiday favorites that we've come to know and love over the years, but there's no better time to start planning your holiday travels than with some of these mouthwatering confections in mind.