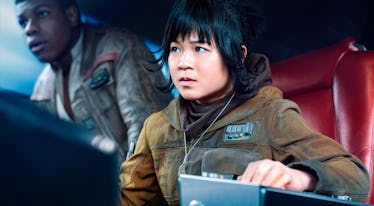 'Star Wars' Star Kelly Marie Tran Has Quit Social Media & The Reason Is So Sad
Lucasfilm
Maybe the true evil within the Star Wars universe was never the Empire, or the Sith, or the First Order, but was hiding in the fans of the film saga all along. On Monday night, Star Wars actress Kelly Marie Tran deleted her social media accounts. Tran played the character of Rose Tico in 2017's Star Wars: The Last Jedi, marking the first time in the film franchise's decades-spanning history that a woman of color was cast in a lead role. However, a segment of the fandom has continued to ruthlessly bully Tran over her portrayal of the character, her ethnicity, and her physical appearance online in the months since The Last Jedi hit theaters.
Anyone who has dipped their toe into the Star Wars fandom online presence since The Last Jedi was released has probably noticed some very unsettling remarks being made about Kelly Marie Tran and her character of Rose Tico. After The Last Jedi premiered, racist "fans" altered her Wookieepedia profile to include multiple racist slurs. Alt-right Twitter trolls also attacked Tran for her ethnicity and appearance.
After witnessing all of the senseless hate flung her way online, it should come as no surprise why Kelly Marie Tran would want to delete her social media presence. Tran's Instagram account has been totally wiped of any posts, leaving only a black-and-white profile picture and a bio that reads "Afraid, but doing it anyway."
It is a real bummer for actual Star Wars fans to see Kelly Marie Tran disappear from Instagram, since she loves to geek out over all things Star Wars just as much as anyone. Tran was a superfan of the intergalactic franchise before joining the cast of The Last Jedi, which marked her first major movie role, and she continued to be a relatable source of fangirling over the franchise even after joining the Star Wars family.
Star Wars: The Last Jedi director Rian Johnson addressed Kelly Marie Tran's decision to leave social media due to harassment on his Twitter account, implying that the online bullies are "manbabies" and clarifying that although the vast majority of the Star Wars fans he has met operate with humor, love, and respect, there are still "a few unhealthy people" on social media that make the entire fanbase look terrible.
Sadly, this is not the first time that an aggressive segment of the Star Wars fandom has caused personal distress for an actor. After Star Wars: The Force Awakens was released in 2015, Daisy Ridley deleted her Instagram, revealing that she began getting bullied for the way she looked after posting about gun regulations. (Ridley has since revived her Instagram account). It is hard to ignore the fact that both of the female newcomers to the Star Wars saga have faced extreme harassment on social media, whereas the male stars seem to be fine.
After the news went wide about Kelly Marie Tran leaving social media, her fans exhibited an outpouring of support on Twitter in an attempt to show that social media can also be a place of love and not just hate. Check out some of the tweets below:
Ahead of The Last Jedi's release, Kelly Marie Tran spoke to Variety about how excited she was for fans to meet her character:
A lot of Star Wars fans who are specifically Asian never had a character they could dress up like, or they would and people would always call them "Asian Rey" or "Asian fill-in-the-blank." I get very emotional when I see people who are able to identify with this character. That means a lot to me and I don't think it will ever get old.
Thankfully, looking at all the support that Tran is getting now, it is clear that there many more people who did love her character than those nasty few who devoted so much time to bullying her.