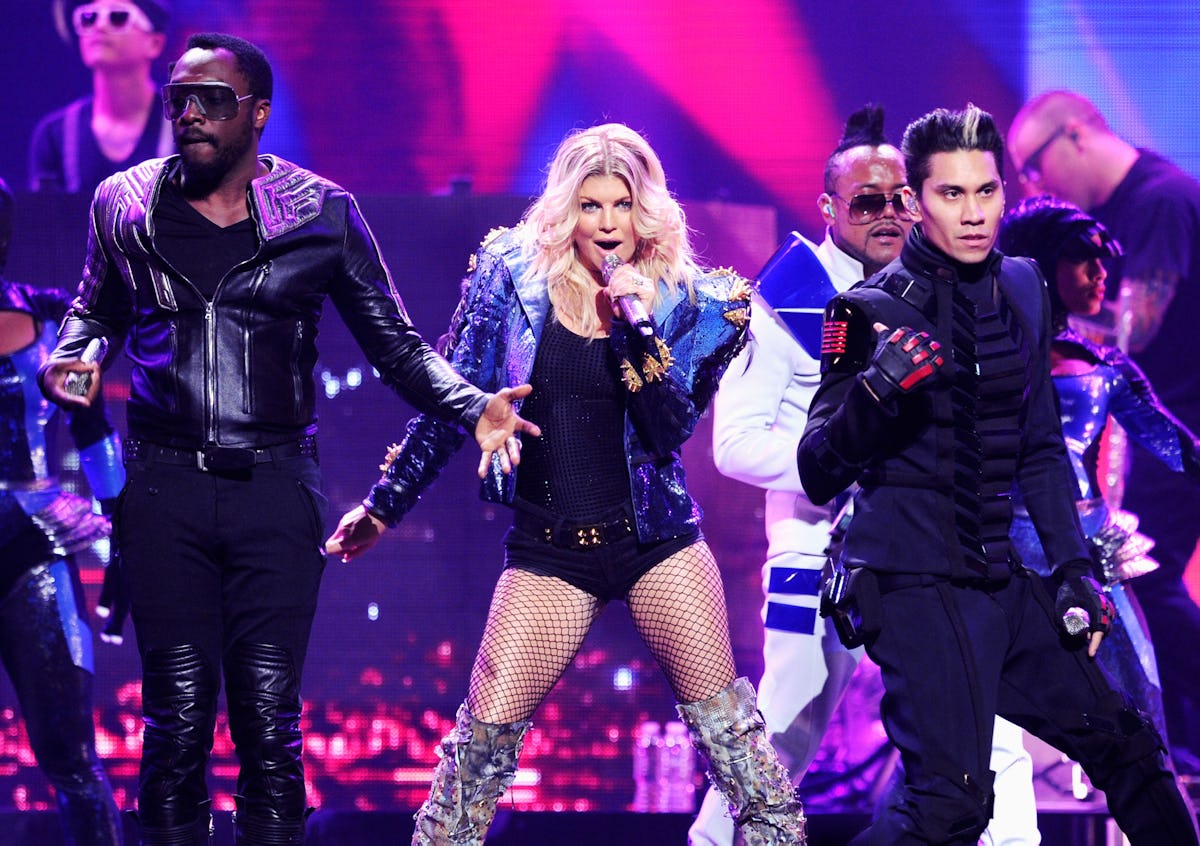 These Throwback Top Streamed Spotify Songs Make Up The Ultimate Millennial Playlist
Ethan Miller/Getty Images Entertainment/Getty Images
Few things set the tone for the perfect night out on the town quite like a playlist that mixes the hottest tracks of the moment with the oldies but goodies that make you want to bust a move. And with the weekend coming up, "I gotta feeling" that Spotify's new playlist — curated in honor of its 10-year anniversary — will have you dancing all night long. The music streaming service put together the very best of a decade of music in honor of the milestone, and Spotify's top globally streamed songs since 2008 include all your favorite jams for the most nostalgia-inducing dance sesh.
In honor of its 10-year anniversary, the largest music streaming service in the world is celebrating 180 million monthly active listeners across 65 different countries and looking back on the tunes that defined the past decade. Spotify compiled the 10 most streamed songs around the world since 2008, and these picks will take you on a walk down memory lane.
The Killers — "Human" (2008)
Are you even a millennial if you don't start shout-singing every Killers song when it comes on, whether you're at a dive bar or the grocery store? While "Mr. Brightside" and "Somebody Told Me" are my personal favorites, I have a soft spot for the 2008 track "Human."
The Black Eyed Peas — "I Gotta Feeling" (2009)
The Black Eyed Peas' "I Gotta Feeling" was (and still is, if I'm being completely honest) the anthem to start your night off on the right foot back in '09. Can the group and Fergie get back together and make more music already?
Eminem — "Love The Way You Lie" (feat. Rihanna, 2010)
Eminem and Rihanna were the totally-unlikely-but-magical pairing that no one saw coming in 2010. If you're in the mood for an epic break-up anthem to sing your heart out to, "Love The Way You Lie" still holds up eight years later.
Don Omar — "Danza Kuduro" (2011)
Don Omar's "Danza Kuduro" spawned dozens of remixes and dominated every high school dance floor back in 2011.
Gotye — "Somebody That I Used To Know" (feat. Kimbra, 2012)
In 2012, Gotye's indie-infused break-up track was the song that gave you all the feels.
Macklemore & Ryan Lewis — "Can't Hold Us" (feat. Ray Dalton, 2013)
Macklemore and Ryan Lewis continued their "Thrift Shop" success one year later with the catchy "Can't Hold Us."
Pharrell Williams — "Happy" From "Despicable Me 2" (2014)
Pharrell Williams' "Happy," also known as the feel-good song that was so good until it was annoying, had its heyday back in 2014.
Major Lazer — "Lean On" (feat. MØ & DJ Snake, 2015)
In 2015, Major Lazer teamed up with MØ and DJ Snake for the catchy dance track, the only electronic music pick on the list.
Drake — "One Dance" (feat. Wizkid & Kyla, 2016)
Drake might have been bae way before 2016, but "One Dance" cemented his status as a chart-topper. Back before he was asking Kiki if she loves him, Drake was teaming up with Wizkid and Kyla for this sultry single.
Ed Sheeran — "Shape of You" (2017)
Last year, everyone's favorite British crooner dominated the airwaves with his impossibly catchy and sexy single "Shape of You." His highly anticipated album Divide was a mix of the ballads we've come to know and love and some newer sounds, and it currently holds Spotify's record for most streamed album of all time.
While Spotify's 10 most streamed songs from the past decade are undeniably iconic, I couldn't help but notice that there's definitely a lack of female artist representation from the list. Luckily, Spotify is also releasing its Decade of Discovery playlist, with 100 hits like Lady Gaga's "Just Dance," Sia's "Chandelier," and Adele's "Hello" to let you have the best jam fest (or cry fest) since 2008. Happy listening!