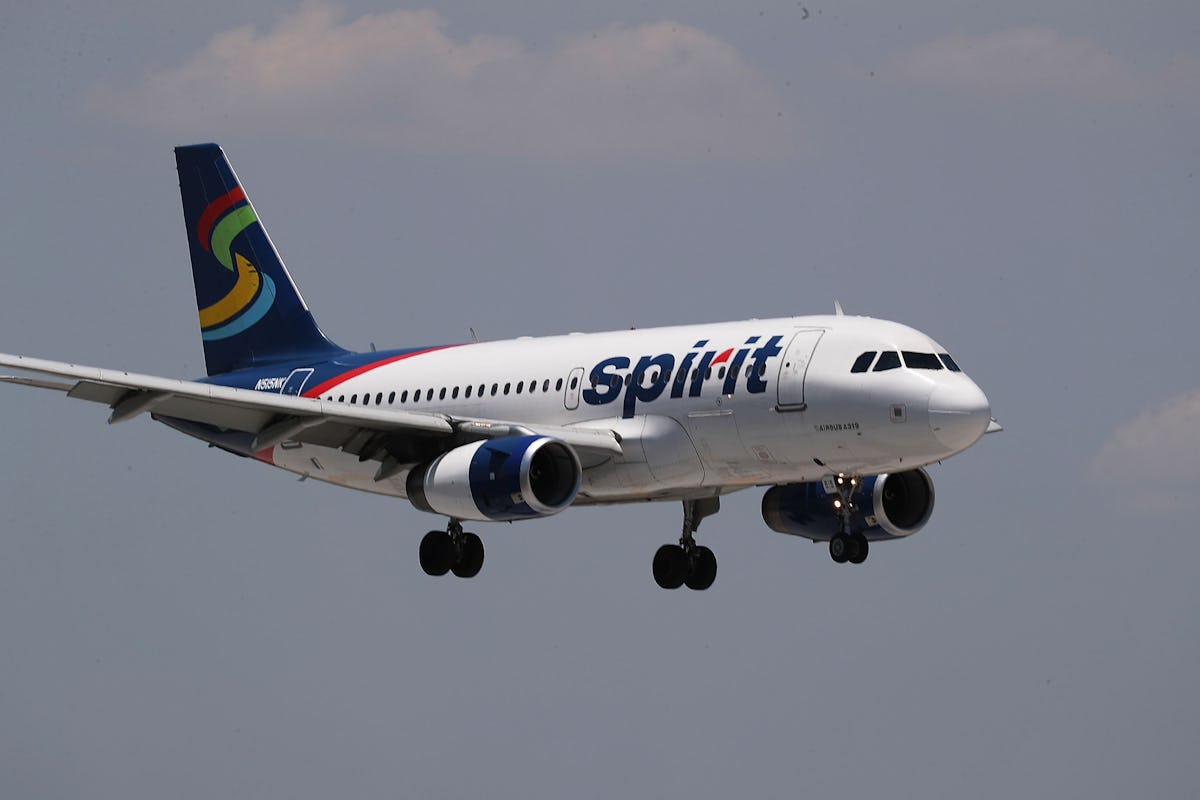 You Can Get 85 Percent Off Your Round-Trip Flight With Spirit's Amazing Sale
Joe Raedle/Getty Images News/Getty Images
If you're one of the many people already planning your next vacation (less than a week after the holidays), you're not alone. Between getting back into the swing of work and facing the bomb cyclone head on, I'm ready for another break. I've been daydreaming about getting away all week, and thankfully, Spirit Airlines' 85 percent off sale just might be able to make those daydreams into reality.
Spirit Airlines is currently offering 85 percent off air fare, according to Travel + Leisure. Yes, you read that correctly. Yes, you should log on right now and book your trip. Spirit Airlines is already known for cheap flights, so for them to offer this deal is pretty amazing. In fact, in 2017, Spirit's Black Friday deal was 90 percent off airfare — 90, as in 10 less than 100. Honestly, I'm still a bit shocked by all of this, but I'm not going to question it.
So how do you take advantage of the sale? It's simple. To get your discounted flight, log on to the Spirit Airlines website. When booking your trip, enter the code "85PCT" in the website's "promotion code" box. Act fast, though; the offer only lasts until midnight on Sunday, January 7. Also note that the offer only applies to round-trip flights.
If you're a skeptic like me, you're probably thinking, "OK, what's the catch?" Honestly, there are quite a few, so you'll have to work within Spirit's policies and fine print.
The first "catch" is about the flight dates. Between Jan. 13 and Feb. 13, the 85 percent discount is valid on every day of the week other than Friday and Sunday. From Feb. 27 to May 22, the days change, and the code is only valid for departures on Tuesdays and Wednesdays. Additionally, there are some blackout dates, including Martin Luther King Jr. Day on Jan. 15. Select routes are also excluded from the discount entirely, so I can't guarantee that your dream vacay will be part of the deal.
The next catch is that the discount applies solely to the actual airfare, and not to the other fees or taxes added on to the total cost of your trip. The example used by Travel + Leisure is a round-trip flight from Boston to Las Vegas. The regular cost of the trip would be $294.58, all taxes and fees included. With the 85PCT discount code, the cost comes to $122.28. This is about 41 percent of the regular cost, versus a much smaller 15 percent — but still a pretty great deal.
And speaking of fees, it is important to know what you're getting yourself into when flying with Spirit. While it's true that the company typically offers great prices on airfare, there are a number of other ways that Spirit charges customers. This includes fees for basic amenities like baggage, seat reservations, and food and beverages on the plane. So if you are planning to take advantage of this deal, be prepared to pack smart.
If you're ready to get away but not sure where you want to go, be sure to check out KAYAK's 2018 Travel Hacker Guide. The guide offers a number of recommendations for exciting trips to take this year, whether you're trying to visit a hot spot, lay on the beach, or just vacation on the cheap.
Remember, Spirit Airlines' deal is only for round-trip flights, and only lasts until midnight on Sunday, Jan. 7, so hop to it!
Check out the entire Gen Why series and other videos on Facebook and the Bustle app across Apple TV, Roku, and Amazon Fire TV.